Love and Let Go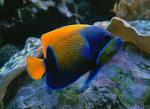 Philippines
March 7, 2007 11:06pm CST
Last night, a friend of mine forwarded a text message about the story of two fish in a bowl. I would like to share it to you myloters and hope you will share your opinion or experience about this. Their were two fish in a bowl. They both enjoyed living together. They were contented with each other presence. They Feel inlove with each other but as time passed by the other was not as inlove as before. She didnt enjoy the things they used to do. So, the other fish know and felt the coldness of their relationship. He was terribly hurt because she was his only world. One day, he was seen with his eyes closed floating like a lifeless body. He was put off from the bowl and was replaced by a new one. but before his body was raised, he slowly opened his eyes and whisper "Hope he can make you happy".
3 responses

• Philippines
9 Mar 07
Love is sometimes all about sacrifices and letting go just to make someone happy. The story has somehow relates to my personal experience and to tell you it was a sad ending on my part but later on I was able to see and realize that I did the right thing. Also its not so easy to let go to your feelings, gives you a lot of headaches and nigtmares. Have a great day. Hope the fish finds the perfect girl fish for him. By the way is it a goldfish or a fighting fish?

• Philippines
13 Mar 07
hayyyy.. oh my that story really affects me. somehow and sometimes love is just not enough. Even though you do everything and anything for someone else it is still not the measurement of lifetime commitment. I myself experienced to be in-love.. I also felt emptiness after a few years of our relationship. I ended up the relationship and find someone else. I hope he can be happy.

• Philippines
21 Mar 07
For me, I think that when you love a person genuinely, truly with all your heart... You can sacrifice for his or her own happiness. That's true love.. Because if you know that she/he won't be happy with you. You won't be selFISH, and set her/him free to find their true love..I rather see the one I love happy with someone else than see him/her miserable by my side..

• Sri Lanka
21 Mar 07
I would like to say this to you : When you learn to love somone you've got to learn to let them go.... If they don't come back to you it means that they are never meant to be together...

• Pakistan
12 Mar 07
it shows he really loved her as he sacrificed his world for her happiness,may all men learn a lesson from this fish:)