today it's international women's day,does anybody really cares about such days?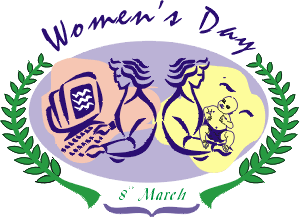 India
3 responses

•
8 Mar 07
I think one day a year is not enough lol. That is a bit sexist lol isn't it? What about a men's day? There are 365 days in a year..we should split them in half lol. I believe it is meant to nudge the world and reminding us allof how far behind we are running where women'sissues are concerned.

• India
9 Mar 07
yes and days like this really prove to be of a very little help to them they concern. there would be seminars lectures etc. but in the end results r usually the same--nil...

• Malaysia
8 Mar 07
I surely do! My wife is a woman. My mom is a woman. My mother in law is a woman. My business partners are two women. My sister in laws are women. My cousins are women... and the list goes on! Happy Women's Day to all the great women in my life and to all the women in the world!