Here's a question that I can't answer it:How does it feel to have a father?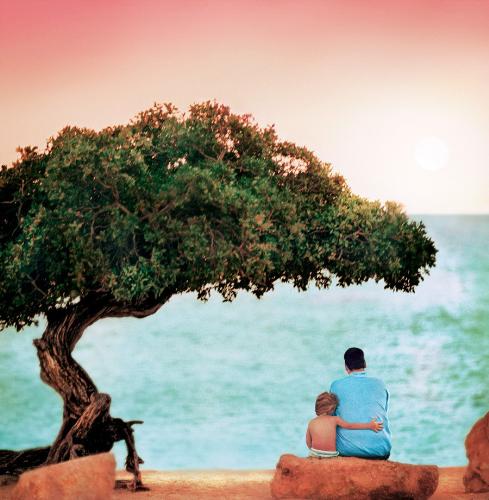 Romania
March 8, 2007 11:09am CST
Being here new and seeing that you can be opened I want to know something that i haven't experienced it strong enough. My dad and mom divorced before i was born and my dad is quiet a cold person (in my point of view). I only saw him 3-4 times in my life and he made me many times sad. Now I can see how much he cares about me (like a stranger). Because of his actions now I can wait to loose contact with him. I'm lucky to have my uncle he helped me a lot like a father but still the essence from a true of having father is unknown for me. I wander is it so hard to be a father? How does it feel to have a father that cares about and loves you as his son?
3 responses

• Australia
17 May 07
Hello sunchild2000 Some father is can't be very close to his son, they love their son but sometimes their ego is bigger than the love. People are changes, more ages more mature, maybe he want to get close to you now. I do believe that he love you but didn't know how to love you in the right way. My father really care about me, maybe because I the only daughter he had, but sometimes he to protected to me, and i don't like that. God bless you *angel http://money-athome.blogspot.com

• Romania
17 May 07
I like your response very much and I wish it was true but you must know that my dad has other 3 children and the worst thing is that he never mentioned about me to them. So to my stepbrother and 1 stepsister I don't exist. If he ever loved me as his son than he would at least tried to be a part in my life. (but he didn't) But as it said all things happen with a reason. Thank you for cheering me up. :)

• United States
22 Dec 07
Now do not feel bad, because those who have fathers who love them as sons are quite a minority in the world at large. There are those who have no fathers at all, those who have fathers who are not just indifferent but actually hate their sons, and then fully have of the people in the world are daughters rather that sons, and although some women have problems because their fathers treated them like sons rather than like daughters! Coldness is not unusual in fathers, unfortunately, nor is it altogether missing in mothers. Often people have children before they are ready, or by accident, and some make the best of it and some unfortunately do not. But in my own case, I decided early on that I would not pattern my own life after these examples. You can be whatever you want to be, in a sense, and someday if you decide to be a father, you can decide to be warm and loving and a good father. You can also decide not to engender children. Isn't it wonderful to have a choice? Good luck to you!

• Romania
26 Dec 07
I feel bad because I'm very receptive and I'm sentimental but I always get over it...but sometimes the old wounds start to bleed again. Your so right we all have many choices but because of this huge freedom we prefer to have at least one choice (and this is wrong) but we are all humans. I encourage myself by saying "all things are meant to be". Thank you for your response.

• United States
8 Mar 07
I grew up with a father and I thing I felt about him the same way you feel about your Uncle. I have a granddaughter and her father wantsnothing to do with her. Some times I feel like a father to her. There is a special bond between the two of us and I hope we willalways have that special bond. Enjoy the time with your Mother and Uncle. You can't force someone to care about you. He made a choice and will have to live with it. Don't you be the one who shuts him out of your life. Maybe sometime in the future he will want to be a part of you life. Don't hate him but if he wants to be a part of your life get to know him.

• Romania
9 Mar 07
I tried to make him a part of my life but not even a small yes. Thanks for sharing me your story :), makes me feel better. But now we is losing me because he wants that, I've received many small signs that told me this.