meds for hairballs?

United States
8 responses

• United States
8 Mar 07
You can buy hairball remedy "stuff" at Walmart, Kmart or any pet supply store. You put a little bit on their paw and they'll lick it off. It's basically a lubricant so they pass the hairballs instead of throwing them up. Another idea is to buy one of the catfoods that says it's for hairballs. I would assume it includes some sort of lubricant in it too. Either one or both of these remedies should work. If your cat is shedding alot right now, brushing him will help quite a bit too, especially if he's a long haired cat. Even the short haired cats can shed alot. We have a short haired cat that tends to shed alot, we regularly brush her. She loves to be brushed!

• United States
8 Mar 07
I use this remedy "stuff" and it works really well. I can't remember what its called but if there is not Walmart or Kmart near you try a petsmart or petco. They carry it as well.

• United States
8 Mar 07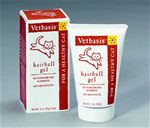 Yep! Depending on which end of the world you live in - its either becoming Spring or Winter. Seasonal changes bring new coats and lots of haor balls. Go to your local store and buy this hairball formula malted gel in a tube and either put some on their front foot (they'll become indignant and begin cleaning it up) or they'll lick it off your finger instead as if its a treat like mine do. The hairball formula degreases the hair in their stomach and it'll come out nature's back door better than the gross gack-up on the floor and furniture. There are pills, capsules, liquids and foods on the market, too, but the gel is easier to give.

• United States
8 Mar 07
Yea my cat has problems with that too, I dont know of any type of medication for it. It would be nice if they made some.

• Netherlands
8 Mar 07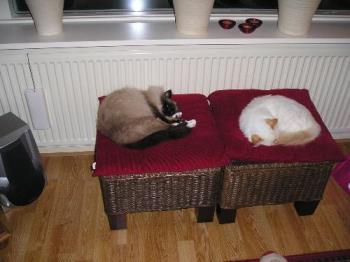 I don't think there is a medicine for it but I know there is special food for it. Anti hairbal pasta or just a little basked were you can let grass grow into. Cat's love that. My cat's eat from my plants. That doesn't solve the hairballproblem but when they don't get ride off the hairballs they become very ill. So I think it's better for them to trow up than that I loose them. You also can camb them every day. It reduces the hair that they lick up.

• United States
8 Mar 07
I have two cats, and one is constantly vomiting up. I use laxatone. It is sold in the pet store or Wal Mart and Target. It is in a tube. Not expensive. Only give 1" long each day. Also, brush your cat daily to remove as much hair as possible. If it is dry in the house, you might want to make sure he is drinking or get a humidifier. Some premium cat foods say "fur ball control" on them. I have not found that effective for my cat. Each cat is different though, so try it. Good luck dear.

•
8 Mar 07
i have four long haired cats which i groom every day and have never had a problem with hairballs and i dont give them any special foods to treat this problem.

• United States
8 Mar 07
What you cando is comb your pet every day with a pet comb, that will help remove the excess loose fur. Also you could get shampoo for your cat that aids in removing excess fur. Yes I give my 2 cats baths once a week to every other week to help with the shedding problem. honestly it has helped. I have 1 cat that seems to shed all the time and by combing her every day and bathingher once a week I have bee able to cut the shedding down by half so far.

•
8 Mar 07
Well I don't know where you live, but in Europe you can buy a dried cat food called Royal Canin, that make a variety especially to stop hairballs. They are usually experienced more by long-haired cats, than by short haired ones, and maybe you should try grooming your cat more, to try and get out all the lose fur etc., and stop them forming. You could also try giving your cat oily fish like sardines, or tuna in oil, as they oil helps them get rid of the balls easier. Good luck.