Water melon is good source of water

Italy
8 responses

• Pakistan
12 Feb 08
Yes I agree with you. Water melon is named due to the water available in it. A water melon has very low quantity of calories. It is very good for those who want to loss their weight. Water melon complete the need of water in the body of the eater of water melon.

• Philippines
27 Apr 07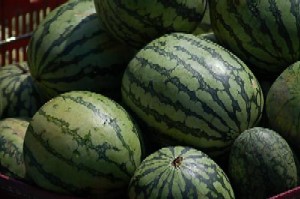 Yes, and not only but also potassium accordingly. Watermelon here in the Philippines has the orange flesh while the pakwan which is bigger has red and sometimes yellow but the red is sweeter. The watermelon has thicker flesh and sweeter than that of the pakwan. These fruits are in season during summertime.

• India
28 Apr 07
No other fruit says summer like the subtly, crunchy , thirst quenching watermelon. Although watermelons can now be found in the markets through out the year but its season is summer only. the best thing is that the people who love to be on diet can really feast on the fruit as it is fat free and nutritious.it is rich in Vit A, B6, C and thiamin.As tomatoes , watermelon has lycopene which helps in the red pigment.it has more lycopene than tomatoes and it has anti oxidative properties.It also helps in aid of cancer realted problems.a person who is diabetic can also eat watermelon. it is very good for health ,no doubt.

• India
14 Mar 07
I love water melon..Its yummy..I was not aware that its a good source of water but I have read somewhere that its really good for skin....may be who know? but i love melons..

• Australia
9 Mar 07
I think watermelon is the most refreshing taste, it is beautiful, I am not sure how good it is for you, but I love it so much especially in summer, its lovely...