what's your favorite board game?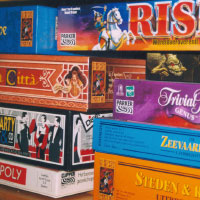 Philippines
3 responses

• United States
12 Mar 07
We love: Apples to Apples, Scattergories, Uno, Phase 10, Skip-Bo, Outburst, Buzz word. There are so many I really can't even remember them all. I love all sorts of games.

• Philippines
13 Mar 07
from the games you listed, uno is the only game i know. hehehe. but i guess those games you listed are interesting and fun to play! :)


• Philippines
13 Mar 07
i love playing bingo too especially if there's a pot of monet to win! hehehe. i enjoy playing chess too and other classic board games like scrabble and checker and oh, snakes and ladders!

• United States
13 Mar 07
Our favorite board game is a game that I bought a couple of years ago at Tractor Supply. It is called Life On The Farm. It is similar to Monopoly or Life, but it doesn't take as long to play (most of the time). We have had more fun with this game than we have ever had with any other. We even had to buy one for Grandma's house because the kids loved it so much! The kids have had Grandma and Grandpa up till 2 a.m. playing this. If you haven't ever played it, I suggest that you try it.