Do you wear slippers in your bathroom? why and why not?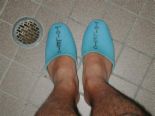 Philippines
March 9, 2007 1:50pm CST
We have a pair of slippers in our bathroom but I just don't feel like using it. lol. My sister placed that one so that when we get inside, there will be no marks on the tiles with our shoes or slippers especially if the floor in the bathroom is wet. When I take a bath, I don't wear it. But sometimes I do especially if the floor is wet. How about you?
7 responses

• Singapore
9 Mar 07
Nah.. not for me. Since I am in my house, I always go bare-footed... yes, everywhere in my house. :P

• Sweden
9 Mar 07
you remind me of my boyfriend. he prefers to go around the house... as in, everywhere in the house,too barefooted. i bought him a pair of slippers when he got to visit me here in the philippines for two weeks but he rarely used it. well, he looks actually cuter when having no slippers on. hihi.

• Philippines
11 Mar 07
for easy bathroom cleaning, yes, wearing slippers is a great help. we have a pair at the bathroom too, for wearing. i wear them when i need to wash my face or use the toilet adjacent to the shower room. but when i'm in the shower, i remove them. depends on what type your slippers are. there are rubber slippers (for wet purposes) and house slippers (cloth/cottony) for dry purposes.


• Philippines
10 Mar 07
I forgot too sometimes lol!! When I was in a hurry or sometimes I really forgot to wear it and just take a bath bare footed ha!ha!ha. We are just human other's might find it *yucky* but hey! that is not a big deal everyone has uniqueness and we do sometimes our own way to be comfortable and not wearing a slipper in the bathroom for me is okay.

• India
9 Mar 07
yes i do wear slippers in the bathroom otherwise i think it is not comfortable and dangerous as if there is any eletrical fault your sleepers can save you.


• Sweden
9 Mar 07
when inside the house, i always wear slippers. i hate the feeling of my sole touching the cemented floor. so, i used slippers most of the time. but whenever i enter the bathroom, i hate wearing slippers. it's the only time when i want to allow my sole touch the floor especially when taking a bath. i want to be slipper free during those moments.