BIG Fluffy biscuits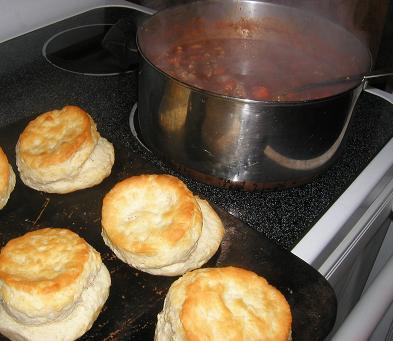 United States
March 9, 2007 3:04pm CST
These are my families favorite biscuits. They puff up and double when baked, ends up like one biscuit sitting on another, so it is easy to separate them to fill. The only problem is, I don't know how to make them. I buy the dough frozen. Do any of you have a recipe that makes wonderful biscuits like these? I have a baking powder biscuit recipe that I use from time to time, but they just do not compare to the loftiness of these ones from frozen dough.
3 responses

• United States
10 Mar 07
You might try increasing the baking powder. For some reason, it doesn't seem to rise as well as it used to. To get them to break easily in two, you knead them a little bit on a floured surface. By a little bit, I mean fold the dough over but don't mash it very much. You are sort of leaving a floured "seam" in your dough.

• India
10 Mar 07

these are my favourite biscuit resipe hope you like it Fluffy Cheddar Biscuits 30 min 10 min prep Change to: servings US Metric 2 cups all-purpose flour 2 1/4 teaspoons baking powder 3/4 teaspoon baking soda 1/2 teaspoon salt 1/4 teaspoon ground pepper 6 tablespoons cold unsalted butter, cut into small pieces 3/4 cup buttermilk 3/4 cup shredded cheddar cheese Preheat your oven to 425 degrees. Sift together flour, baking powder, baking soda, salt and pepper. Cut in butter a piece at a time until mixture looks like large crumbs. Add buttermilk and cheese. Mix until combined, flouring your hands as needed, until it sticks together. If it is too sticky, add in some more flour, a little at a time. Do not over mix. Lightly flour a large work surface. Turn out the dough and flatten it to 1 in thickness. Cut out rounds with a floured 2 inch round cutter. Keep spacing as close together as possible. Put the rounds on a baking sheet. Collect any scraps, and, mixing as little as possible, flatten out to 1 in thickness again. Cut out any additional rounds you can. Do not over mix. Brush tops of biscuits with melted butter. Bake until they look golden brown,. Bake for 18 to 20 minutes. Rotate the sheet after about 10 minutes. here is another recipe Fluffy Southern Biscuits 22 min 10 min prep Change to: small biscuits US Metric 2 cups all-purpose flour 4 teaspoons baking powder 1/2 teaspoon salt 1 tablespoon sugar 6 tablespoons margarine (stick) 3/4 cup milk Preheat oven to 450°F. Sift together dry ingredients, then add margarine and cut in until coarse and crumbly like cornmeal. Add milk and mix with a fork. On a floured surface, knead gently turning over several times. Roll out to 1/2 inch thickness and cut out biscuits. Place with sides touching on an ungreased cookie sheet. OR drop by large spoonfuls onto an ungreased baking sheet with sides touching. Bake for 9-12 minutes, till golden, turning around once halfway through for even browning. Serve warm with butter and fried chicken! hope you liked it

• United States
10 Mar 07
I know what you mean --for some reason anything with yeast in it or having to knead the dough, I just mess up!