Computer glitch taxing Canada Revenue systems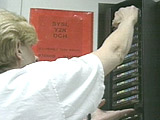 Canada
March 9, 2007 11:13pm CST
More than one million tax returns have been filed this year, but they are sitting on hold while Canada Revenue Agency technicians work around the clock on an unexplained computer glitch that was discovered last weekend. From reading the story they are holding both mailed tax returns and nobody and efile. Everybody wants their tax refund as fast as possible. What do you think about this? Do you think the goverment should have known about this before hand?
4 responses


• Philippines
10 Mar 07
This things are unsual and something fishy is going on I think, that's my law senses tell me lol!! Government should be armed with the latest technology and updates for this are really important matter it deals with money and revenues. There is no room for mistake. I think your revenue agency should be liable to explain to all tax payers why was that happen and how that happen for it was the money and tax that are involve. It is more than a glitch it something more serious and fishy lol!!!

• Canada
19 Mar 07
no, people like to blame CCRA just because they are the "tax people" but every company can have a computer glitch. From what I heard, I work for the canadian federal government, it was a problem caused by an IT guy (imagine how stupid that guy feels now) and they worked around the clock to fix it. This happens in companies all the time unfortunately, but just becuase it was the government, everyone knows about it. They've fixed it now anyways.

• United States
10 Mar 07
Well, you would hope that they would know their system but lets face it glitches are glitches and possibly they didn't know about it until everyone started filing their taxes. I live in the US and praise the Lord have filed and received my refund already. I'm sorry Canada is having this problem and pray they will get it cleared up quickly.