Chuck E Cheese....

United States
March 10, 2007 5:19pm CST
It's been a while now since the last time I took my kids to Chuck E Cheese before today. And jeez, I also forgot how expensive it can be. We were there for nearly 2 hours but dropped almost $100. For what....a pizza, drinks, and some games. It was fun and all, but we would have had just as much fun at a park for free.
5 responses

• Grand Junction, Colorado
12 Mar 07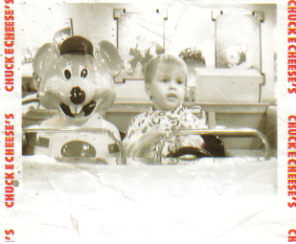 We don't go all that often so when we do go I think that it's okay to blow a little money making great memories. We also do the coupon thing as stated above and buy additional tokens. I play just as much as the kids. I love the game you roll the ball up the ramp into one of the holes for different credits. It's my favorite. The kids enjoy themselves. The pizza isn't the best but then it's really not about the pizza it's about having fun and making memories.:) I'm sure some would say that it over indulgent how can you possibly justify spending that kind of money. I say it's not everyday we only do it once or twice a year.:) We do the park all the time, while it's fun it's a regular thing. Chuck E Cheese is a real treat!!! That's my 2 cents anyways.

• United States
12 Mar 07
Hey, cool picture !! I see your point. It's good to sometimes splurge and I can't always see finances as a burden when it comes to the happiness of my kids and for my family as a whole. Thank you for your sound advise and your positive feel.

• India
11 Mar 07
hi,friend,thats true,happiness comes not from spending money only,as well you can get happiness in free park also.But for one time sake,we have to took our children to different places even sometimes expensive.all the best.have a nice day with your kids.

• United States
11 Mar 07
This is true. It is nice to vary the experiences and many a time it can be quite expensive. I for one love to travel with my family and most the time it is not cheap but the value of the overall experience is greater than that of going to Chuck E Cheese.

• United States
10 Mar 07
We used to go once or twice a year. I always collect those coupons for pizza, drinks and token for like $35 or so. I would buy some additional. Kids would have a blast and I was always out $50. Sad part is, I love playing the games too.


• United States
10 Mar 07
yes it's expensive there they get u on the games. I used to work there years ago well the one here was called show biz pizza I was the dancing bear they always put me in the costume cause am short lollollolol