hey guys!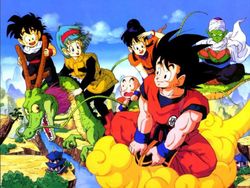 Philippines
March 12, 2007 2:31am CST
do you love to watch dragon ballz in your childhood? or you still love to watch at your age now? why so? my boyfriend do, he would cancel his appointments just to watch it..
5 responses

• India
13 Mar 07
DBZ, its one of the best anime i have ever watched in my life, and i still watch it even tough the series is completed but i have watched the series 3 times..

• Malaysia
13 Mar 07
I 'liked' watching Dragon Ball when I was 9 or 10 years old. Not anymore. When I was 13, I realized that its a big world out there and there are lots more anime to watch. I watched Dragon Ball with 'malay dubs' and it sounds pretty bad.



• India
27 Feb 09
im 19 now and im a die hard fan of dragon ball z.. i started watching dragon ball z when i was studying 8th std..still i love the series... i have seen all the 274 episodes of the series... im loving it... im having a huge collections of dragon ball z im a big fan of gohan... u can see that in my user name over here... i like gohan very much...the day he became super saiyan 2 and defeated the mighty cell...