Would you send your parents to a retirement home? why?

Philippines
4 responses

• Singapore
12 Mar 07
I would love to have them stay with me until their last day. They done so many amazing things for me, I hate to have them sent away. I don't want a situation whereby they have to be alone among strangers in a retirement home. The staff there may care for them but I believe that what old people really want is for their loved ones to be around them. I would be irresponsible in doing so. If in the unfortuntate situation that they are ill and there is no one to take care of them at home, I hope to be able to hire someone to stay with us to take care of them.

• United States
12 Mar 07
Amen velvet Amen. I praise you for this also. Thanks.

•
12 Mar 07
I would always try to look after my family and keep them in their own home! If certain medical complications or my own fitness meant I could not look after them I would search for the best facility that would be able to look after them the best!

• United States
12 Mar 07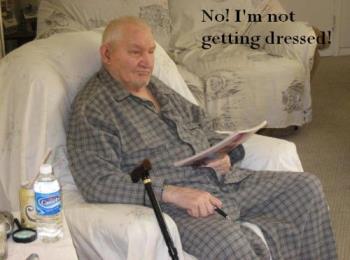 I take care of my father now. I have been doing this for over 3 years. he doesn't nor do I want to have him in a retirement home. Things are starting to roll slowly downhill now as he barely walks. He is getting lazy. Mainly due to the fact it hurts for him to walk. It hurts because he hasn't been using those muscles. I have a bad back also. So the bathing & lifting him (215 lbs) is starting to wear on my back severely. I think he knows if it gets any worse I will have to put him in a home or he pays someone else to care for him in my house as my healty is going down now also. I don't take care of myself as I worry about him. Thanks for a good discussion. HAPPY POSTINGS FROM GRANDPA BOB !!

• India
12 Mar 07
Yes I will send them. Because they sent their parents.