Who needs coffee to function in the morning?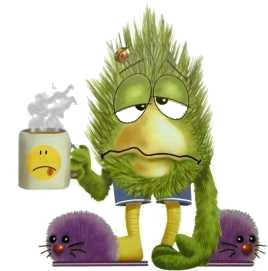 Canada
March 12, 2007 3:52pm CST
Many of us need that first cup of joe to get us up and moving in the morning. For me it depends on the mood, some mornings its the first thing I want to put my hands on, and other days I dont need one at all. We all know that caffeine is addictive, its in coffee, pop, and even chocolate. Do you need that cup of coffee to jump start your morning?
4 responses

• Canada
12 Mar 07
I don't need coffee to wake me up in a morning, but I do like a cup of tea. There's something soothing about a strong tea with 2 sugars and a drop of milk. A little later in the morning towards lunchtime I like a glass of coke - and yes, I know it's bad for me lol. I'm trying to cut down! I swear! My partner is a coffee addict. He drinks on average, 5 cups a day during the week while at work, and at least 2 pots of coffee a day at weekends. I keep telling him that so much coffee is bad for him, but he says that it's not bad for him because he's drunk so much for so many years lol.

• Canada
12 Mar 07
I really like tea to, but I dont drink it that often. My hubby enjoys the cup of joe as well, but I dont think he enjoys it nearly as much as your partner..lol thanks for posting!

• United States
12 Mar 07
I personally don't like coffee--- Just can't stand the taste-- I do need my caffiene though- I get it from Coke or Mt. Dew.. I start off with water and then when I need the extra pick me up- I grab a pop. Sometimes I have my first one before 9 am at work. When I'm at home on the weekends I don't usually have one til after lunch- I have tried to quit drinking it-- I then get these killer lack of caffiene headaches.

• Canada
12 Mar 07
Those drinks like "red bull" are loaded with caffeine, and they are called energy drinks, hence why we need coffee or any other sort of drink with caffeine to get us up and going Thanks for posting!


• Canada
12 Mar 07
I like it with two big spoonfuls of sugar, but I like creamer in it as well. I could never drink coffee black, it just seems way too strong. thanks for posting!