This one for the Hilarious Jest.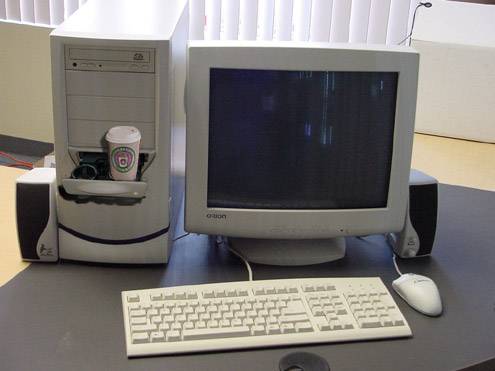 India
March 12, 2007 8:16pm CST
A customer calls the Nowell Netware Sys Op. Caller:"Hello,is this the Tech support?"Tech support:"Yes it is.How may i help you?"Caller:"The cup holder on my PC is broken and i am within my warranty period.How do i go about getting that fixed?"Tech.:"I'm sorry,but did yiu say a cup holder?"Caller:"Yes.it's attached to the front of my computer."Tech:"Please excuse me if i seem a bit stumped, it's because i am. Did you recieve this as part of a promotional,at a trade show? How did you get this cup holder? Does it has any trademark?"Caller:"It came with my computer, i don't know anything about a promotional.It just has '4X' on it."At this point the Tech Rep had to mute the caller,because he couldn't stand it.The caller had been using the load drawer of the CD-ROM drive as a cup holder, and had snapped it off the drive. Moral~'Either you must learn to control technology or it will control you.'
1 response

• India
21 Mar 07
Hahahaha... Never knew a computer with a cup holder:P Technology has changed a lot and sometimes it amuses us. I remember my aunty once asked me how we play computer Games with Our PC. She couldn't just believe we can play FIFA 2007 ( Computer game ) right from our PC. She said we were fooling her. This situation comes very often to some of us.