I want ask she be my girlfriend.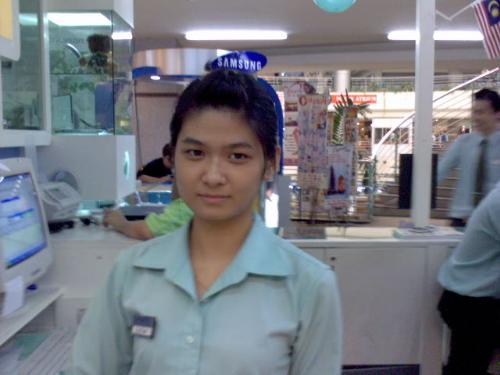 Malaysia
March 13, 2007 1:53am CST
i dont know how to ask her, can u give me some special idea?
6 responses

• Singapore
13 Mar 07
Hi Rickwei2001, you don't have to resort to other things to do to win her heart. Just be sincere in your wanting her to be your girlfriend. All relationship are built on trust and sincerity. And if you are sincere and trustworthy, then your girl friend will notice you...

• Malaysia
13 Mar 07
but i want she feel so touching, and prove i love her very much!! any idea?

• Philippines
13 Mar 07
Just say what your heart feels. Don't think anything on how to get her because reality states that if she loves you too no doubt you would be lovers if you have the same feelings. Say what you wanna say and don't let her to say the answer immediately. Wait for her to comments.

• Malaysia
13 Mar 07
but i need to make she feel touching first, any idea? how can i make she feel touching?

• Philippines
13 Mar 07
Enough of the roses and chocolates thing. For me, just do it as simple as possible. Walk her home and tell her how you feel. Just dont rush things for girls don't like it. Tell her that you are giving her time to think and that you are there for her no matter and. And that you will respect her decision whether it leads towards you or not. Don't also forget to hand her a simple note or a poem. Isn't that sweet?

• Malaysia
13 Mar 07
how about i date she at a beach, and then i give she 12roses and chocolates? will she feel so touching or not?

•
13 Mar 07
Ask her to go out for a drink with you. Make sure she has a good time, then you can either tell her how you feel then or ask her if she wants to go out again to the cinema or something. If she likes you too then it would be ok to go fast and confess but if not, you will have to be patient because by confessing to her in public too soon (personally i don't like it even if it's not so0n) she might get scared and avoid you. Good luck!

• Malaysia
13 Mar 07
oic....like that! but how can i make her feel touching? any way?

• India
13 Mar 07
Just do something for her that she likes, like play her her favourite song. And make sure its romantic. Theres one more thing make it public, i know this sounds kind of troublesome. But, i personally feel that some girls like it when they are proposed publically. BEST OF LUCk

• Malaysia
13 Mar 07
good idea, but i dont know what song that she like, then how can i know what song that she like? any idea?

• Indonesia
13 Mar 07
i will give you an special technique to do it, but first can you play magic trick? if you really want to make her feel special, you can learn rose magic trick,you can give her a rose with a special way.you can learn how to do it on magic shop or maybe you can download from the internet(if available)

• Malaysia
13 Mar 07
WOW, sifu, can u teach me about what is rose magic trick!! how to download ????