How many pairs of shoes/footwears do you have?

Singapore
March 13, 2007 5:49am CST
I've heard that girls have hundreds pairs of shoes.. =p I have 7 pairs.. I used to have 20 or so, but I've just moved, so I needed to get rid of most of them.. =( It's okay...a reason to start collecting some more, don't you think?! A reason to shop..why not... ;p~ So, how many pairs do you have?
8 responses

• United States
15 Mar 07

I have one pair of winter boots, one of walking shoes, 2 dressy shoes and one of sandals. I've toned down since I was younger, but I never had more than 12 pairs of shoes or boots at one time. However, I had a friend who had over a hundred pair of shoes and used her spare room as their storage space along with over 2 dozen handbags! Half of which she hadnt worn in years!

• Singapore
16 Mar 07
Yep.. I have heard that, too... Girls (not celebrities..lol) can have a huge collection of shoes!! That's just crazy.. I'm really wondering how they pick out a pair for an occasion.. Um..the gold Guess heels, or the gold Aldo heels..or the black strappy Nine West 1.5" heels, or the 3" ones.. LOL.. It sounds so out of control... LOL..


• Singapore
16 Mar 07
You're all down for comfort, aren't you..?! =) Great for you, alexsis.. =)

• Singapore
16 Mar 07
I love heels..though they give me scars and blisters..every time!! LOL.. =p Still love them.. =p

• China
14 Mar 07
Maybe 10 or so ....I haven't count.. But the shoes I am used to wearing is 3 or 4...not much..

• Singapore
16 Mar 07
Yeah, that sounds like normal.. Only the favorite ones are worn all the times.. LOL.. Same thing here, Carlinine.. Thanks for sharing! =)

• United States
13 Mar 07
I probably have 20-25 pair but only wear a few....most are really, really old. I should clean them out!

• Singapore
13 Mar 07
You have the largest number out of all the responses so far, songbirdnaimh! =D


• Singapore
13 Mar 07
Thanks for your response, Lifeless!

• United States
16 Mar 07
i have two pairs of shoes. one pair of tennies, for on the town, one pair of slip on loafers for around the house. thats all i need. my money goes into my computer and electronics.

• United States
23 Jan 08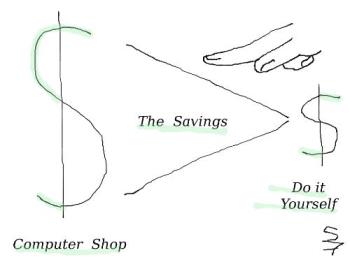 The thing is I use my computer more like a car than an entertainment device. * I don't have a car and I am more or less a shut-in. My small town does not have many of the items I need to buy so I buy them online so that requires a computer. That includes specialty medical devices, foods as I have multiple allergies, and appliances. We do have excellent thrift stores where very good quality clothes (better than K'Mart) can be purchased for $5 or less. * Half of my family lives out of state. I do not have long distance phone service. That leaves me using the computer to keep track of the family. * One serious savings I've taken is learning to do my own computer repair. That's taken a 2/3 chunk out of technology cost. A DVD burner only costs $40 out of the box. Take it to the shop for install your looking at an easy $140.

• India
10 Aug 07
hehe.......thats a nice question i say.....lol.....well i have got 2 pairs of shoes for my college and then 2 pairs for my sports and then 2 more pairs to hang out with my friends. So in total i got 7 pairs.......i have listed only 6 here because i have got 1 pair for emergency case......like if anytime i need shoes then i dont have to go to the market to buy a new pair immediately.