Played airsoft???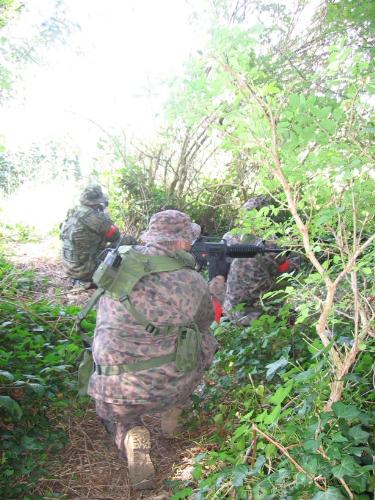 Philippines
March 13, 2007 5:25pm CST
OK. one of the great memories I have with my colleagues in my previous job was the adventure and thrill I experienced when I "joined" their airsoft team. It was really fun and exciting when you put on all those airsoft gear, go to the jungle, and play like you were really in the real battle field. I didn't buy my own gears though coz they are really expensive. My friend who recruited me to join to their team just lent me his gears when I feel like going to the battle field. And yeah, I did have a great time crawling on the grounds, hiding hard so i won't get "hit", and try to get the flag.. that was really fun. but gone are those days coz when I transfered here in my new job, I haven't gone out with them that often...*sigh* I miss those times though... have anybody here in mylot tried playing airsoft? how do you find it? that was really a whole lot of adventure and fun, right?:P
7 responses

• United States
13 Mar 07
I must confess that I have never heard of it. I've heard of paintball, is it anything like that?

• Philippines
14 Mar 07
yeah, it's more or less the same with paintball...they have almost the same game mechanics..but just uses different war gears... :P

• Philippines
19 Mar 07
I have some friends who are avid fans of airsoft and they play airsoft every Sundays either on the mountains or in a beach with some bushes and mangroves here near our place. They actually recruited me to join their team but I was thinking of the budget for all the gears that I'd be needing if I'll join.. :P It's really an expensive hobby.. lol and am afraid I can't afford coz even the airsoft bb costs quite too much to be wasted and just sprayed in the air during your battle.

• Australia
14 Mar 07
Oh what an exciting job that you had it must of been wonderful working there. No I have never tried playing airsoft but it sounds a lot of fun, I hope that in the near future that you will be able to do it again as you enjoy it so much.

• Philippines
30 Jun 08
airsoft is the best sports for me... we play airsoft every sunday, it makes u phisically fit also.... and about the gears i think it will take me 1yr. before i can buy all the gears hheheheheee, gears are indeed expensive.......


• Philippines
2 May 07
I am hooked! Hahaha! I love playing airsoft... it hurts I know, but the pain is as many say it is part of the game... It's not that painful but it's really fun and a very good exercise for me.