RP the most corrupt country in ASIA...so help us God!!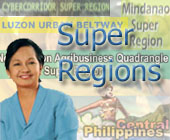 Philippines
March 13, 2007 11:38pm CST
Well, as a common citizen of this deteriorating country the decalartion made by the PERC didn't surprise me anymore.From No. 2 last year and to the top list this year is indeed a devastating and cruel reality. With 84 million Pilipinos, sad to say that the poor are getting even poorer and the rich keep on rising with their plentous wealth. For the past several years the Philippine has been battling against unstable economy. I believe among 60% of the Philippine population is living beyond poverty line. This has been a rotten issue address to the concern political leaders to figure out something good to resolve this dilemma. But as the survey showed, a resolution is indeed next to impossible. The Philippines has plenty of fraud political leaders who keep on stealing people's money and of course use them in their personal gain and interests. Incredulous act. They serve not to protect the country's welfare but rather to serve their personal interest. The Pilipinos are again looking forward for the fast approaching election of Senators. Again the aspirants are laying all their applauded platforms. They endorse themselves to the Philippine public with enthusiam, deterrmination and dedication as what an ordinary citizen is capable of seeing. Yet, you hardly know how their political minds really work. Link to this site: http://www.gov.ph
3 responses

• Philippines
17 Mar 07
We are allowing corruption to happen because we believe in what the media are saying.I'm not saying that all media people are corrupt,but the system is so strong that principled journalist will lose their job if they expose the truth.Next to this is the lobbying of corporate America to make bills that are unfavorable to the people.The stopping of the nuclear power plant in Bataan is one.How many nuclear power plant are there in Taiwan, in Japan, even in America.The stopping of the garbage disposal system invented by the Japanese,i forget its name,Japan,America,Singapore,South Korea have this system.This system is not only nature friendly.. its by product is oil yes ,oil.The oil deregulation law is another hardship law for the public.The electricity bill signed by gloria after she has grabbed the power from Estrada.This bill is one of the reasons why they coup'd etat Estrada.The 6 months then layoff bill is another and many more.All of the above mentioned are giving pain and suffering to the Filipino people.Now will you believe what the mainstream media are barking after seeing these truth.

• Philippines
16 Mar 07
I guess this a wake up call for all Filipinos. The election is a way to change the government. Unfortunately, not everyone is well equip and have the right frame of mind to choose the right candidates.

• Philippines
15 Mar 07
Oh! gee what is happening to our country now? I really think we have to move on too many step forward to make this country shine like it was before. Our government official really don't take this report to thier heads they just read the results and go on with thier corrupt ways, that is one of the reason I resigned from bureau of customs because I can't take what is happening inside that bureau and I can't accept the money they are giving to me.. I choose to live in a simple living rather than to be so called "wealthy" yet the money came from *dirt* Phillippines is a great country with amazingly great history but when we tried to reflect how this great country turn into No. 1 most corrupt in Asia then the answer is, it really depends on who is in the malacanang and who are it's allies running our helpless country.