What is your favorite book by Sidney Sheldon?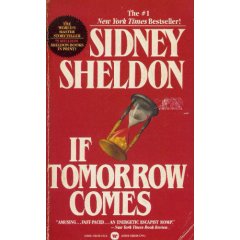 Philippines
March 14, 2007 8:48am CST
For book enthusiasts, how many have read books by Sidney Sheldon and what is your favorite among his works? For me, it's "If Tomorrow Comes" because it has a very unusual story, that of 2 thieves. You really cannot help but root for the "anti-heroine". It's a very exciting book! I also like his other books but this is my favorite.
5 responses

• Philippines
14 Mar 07
My gosh, ethanmama, I'm a huge fan of Sydney Sheldon. I have a complete list of his books. My all time favorite is the "The Sand of Time." Even if I had to reread all his books, I'm always fascinated by how he put down the plots and the words he chose. I wonder though why he is not writing anymore. He only have a few novels. :)

• Philippines
14 Mar 07
He just passed away last January 30, 2007. :( I also read and reread his novels. Even if I reread one of his books, it's still almost as exciting as the first time I read it.

• Philippines
16 Mar 07
that is really sad, its been a long time that i really cant recall which one is my fave but i've read about 5 or more of his novels and yes his plot are very interesting never dragging.

• Philippines
15 Mar 07
unfortunately, i have read just one book by sidney sheldon. and i can't even remember its title. i think it something like "stranger in the mirror". if i have time, i think i'll start reading more of his novels. which do you recommend?

• Philippines
16 Mar 07
Most of his books are really good. Try Master of the Game, The Other Side of Midnight, If Tomorrow Comes, Tell Me Your Dreams, The Sands of Time...

• Philippines
16 Mar 07
thanks for the suggestions! now, i have to find time to buy and read them :D


• Philippines
27 Apr 07
Sidney Sheldon is one of my favorite authors aside from John Grisham. I have read a lot of his books and "If Tomorrow Comes" is also my favorite. I also like "The Other Side of Midnight".

• Philippines
26 Apr 07
Waaaah!! Sidney Sheldon is one of my fave!! Like you, I also love his work, "If Tomorrow Comes." I love the storyline and it really gave me the sense of adventure and excitement... It was also the first book of Sidney Sheldon that I've rad that's why I treasure it the most.^_^