Goldposter forum, $0.10 new thread, $0.05 per reply.

China
8 responses

• India
14 Mar 07
I would have joined it if i hear of anybody who really got paid by that site.Don't they pay us through paypal.I use paypal for recieving money.

• India
2 Apr 07
well these rules are changed they start from these rules then they drop to 5 cent per thread and 3 cent pr reply now they stopped paying to members

• Indonesia
23 Mar 07
Yeah, goldposter is the highest paying forum right now. I was join that site for a week, and I'm working for the payment in there. Now they made a new policy, we are only earn for 25 posts everyday. After that we can still posting but dont earn anymore until the next day.

• China
19 Mar 07
It is so nice for you to share your findings with us.hopeyou will receive your first payment soon. remember to let us know when you get your first payment.Good luck to you.

• Indonesia
19 Mar 07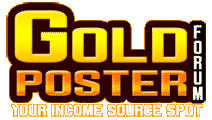 It's quite scarry... I read this in the FAQ pageHow can I request my payout? - After you have reached 10$, simply donate your money to me ''0lgi'' and in the memo right your e-gold number Is it true or just a scam? Do you got your payment, cindy?

• Singapore
19 Mar 07
Sound good, 100 new threads to cash out, thanks for sharing. Keep us updated when you got paid.

• Hong Kong
19 Mar 07
Very goos site, I will join under you. I find the rate of mylot is more and more low, I don't know why, I found I earn a little money here this month, maybe it because I make less post. $0.10 per post and $0.05 per reply, is it the highest rate on paying forum?