Saints & the Superbowl

Cupertino, California
October 16, 2006 11:22pm CST
With the Saints being 5-1 does anyone think they have a shot at the Superbowl? You have to admit that this is the best they have ever looked on the feild. I told my fiance that if they do go to the Superbowl and win that I am going ot get a Saints tattoo.
2 responses

• United States
17 Oct 06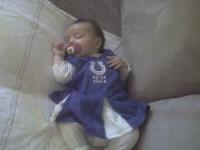 Every team has a shot at it, but me personally I hope the Colts Make it this year, Peyton deserves it.

• Cupertino, California
17 Oct 06
Every team does deserve their chance in the limelight. I am not even a football fan. If it wasn't a year after Katrina, I probably wouln't even be paying attention to the Saints at all.

• United States
17 Oct 06
right on!! and there 1st game at there new arena was awsome I am a big colts fan but I cheered them on that night. such a touchy emotional moment

• United States
17 Oct 06
I agree the night they played there first game on there new field was exciting