Have you ever tried out bridal gowns just for fun?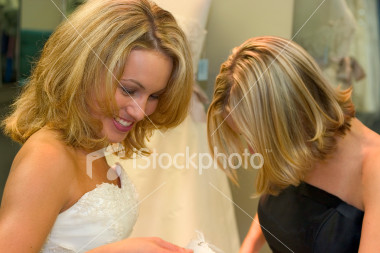 Bahrain
March 15, 2007 5:43am CST
Well, this topic is mainly for girls, but guys are welcome to look around because i know some of you really wanna know what girls do when they get together, and no, it's usually not pillow fights in our underwear, sorry guys. Well, yesterday, me and the girls went out, we didn't really have much to do, and couldn't really think of anything exciting. Now, incidentally, most of my friends are getting married this year or the next, not me, of course, so we were talking dresses and arrangements and all that. And I had the most brilliant idea, instead of talking about it, why not go and try some on? Of course my friend who's getting married already knew what she was looking for, so she had to try just two on to be sure, but me and my other friend who aren't gonna need those dresses anytime soon, decided to try some on ourselves, of course i had to tell the sales people I'm getting married in august, ha ha. Well, let's just say, the evening started off slow, but by the end of it, because of this great idea, i was exhausted with fun, I tried on so many different styles, and trust me, window shopping and trying on wedding gowns is just so much fun, even for a video game-playing, sports-loving, muscle car-loving, wrestling-loving gal like me!!!!So ladies, have you ever done this?If you have then you know exactly what i'm talking about, and if you haven't then you just have to try this one.
6 responses

•
26 Mar 07
Well, I am a bloke, and I have worn a wedding dress! Mind you, it was part of a play I was doing in drama class!

•
27 Mar 07
Well, we all have odd things happen in our life!


• United States
20 Mar 07
I never did consider it, I actually am an unusual woman, or so men tell me, I only own two pair of shoes and one pair of sneakers, and when the shoes die I got get another pair, comfort is more important. I am wrong I own also a pair of heels, the dog found it and it was covered in a layer of dust. I don't really like to go clothes shopping, I can't stand malls, and I have never enjoyed talking on the phone, in the days prior to answering machines I could listen to the phone ring, and my family knew that if they let it ring more than 20 times I would know it is was them and pick up because they only did this when it was important. Finally my mom developed a phone signal to use so it didn't take so long to get through. So never considered trying on wedding dresses not really interested in trying them on. LOL Shopping is not really my thing.

• Bahrain
22 Mar 07
well, i wouldn't really call you unusual because i think that everyone is unusual in their own way, especially when we completely embrace and accept ourselves, so if everyone is unusual then that would make us all normal, i have no idea where this logic is going.......

•
7 Apr 07
What you are basically say is you are unique, like everyone else....which oddly enough is a contradictory statement, but also true. Nobody is odd, because you do what you think/feel is right, which is the normal thing for you. Do what you think is right...you know it makes sense!


• Sweden
18 Mar 07
yep. vega is right. atleast let's try something like it on. isn't it interesting? hihi. wanna see myself wearing a wedding gown, too even if i am not yet getting married this year. let's try it out of curiousity!

• United States
10 Apr 07
I have to admit that I have tried a couple on. I have been in two of my friends weddings and went with both of them when they were looking for dresses. I ended up trying on a couple of dresses both times. Now I am engaged and havent even started looking for a dress yet.

• Canada
10 Apr 07
oh most definitly! its fun! I love it and originally I thought of having my wedding outfit as a pant suit... but no more! definitly a dress

• Sweden
18 Mar 07
that's a nice thought! and it's full of fun, too. but i haven't tried that before. usually, i go to malls and try dresses and clothes on even if i don't intend to buy them. just curious on how it will look on me. hehe. but i never tried a wedding dress on. but honestly, whenever i get to see wedding gowns, i think of myself wearing it. hihi. there are nice wedding dresses and i wanna one day try them on. but i have not such guts to put them on and see how it looks on me. but i guess, i should. hehe!

• Bahrain
22 Mar 07
well, there's no need to be hesitant in going out and trying them on, don't be afraid, no one will kick you out of the store, well, hopefully not. Anyway, grab a few of your friends and just go on and have fun, and think of it as an exercise, on finding the perfect dress style for you when or if you do intend to get married in future, so go ahead.