What is your favorite chocolate brand?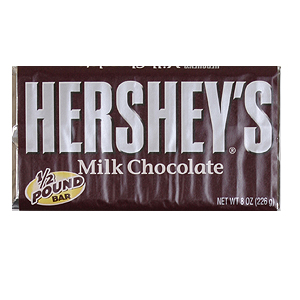 Philippines
March 15, 2007 8:29am CST
There are a lot of chocolate brands in the market now. Price varies depending whether the good is imported or not. My choice is Hershey's Milk Chocolate. I really love the sweet taste of this chocolate bar. I can even eat a whole 1/2 lb chocolate bar! Such a sweet tooth. Let me know your choice of chocolate. I might as well try it myself.
10 responses

• Philippines
17 Mar 07
i too like the Hershey's brand especially the Kisses or Hugs with almonds, Barnone and Reese. another brand that i like is Lindt and Ferrero. van huesen is also good.

• Philippines
20 Mar 07
nice choice you have.. i would also want to try Barnone and Reese. Ferrero is an all time favorite here in the Philippines. There is also a similar product that almost tastes like Ferrero, this is Samba. I can't remember where it is manufactured but it surely tastes good.

• Canada
15 Mar 07
I like the Nestlie brand chocolate that is available in North America, and of the products Nestlie offers, my favourite one would have to be Kit Kat bars. For some reason these taste slightly different in Canada than they do in the USA, but they are good in both countries.

• Philippines
20 Mar 07
yes, i like KitKat too.. usually it is in my checklist whenever i go to the supermarket.. great choice!


• United States
16 Mar 07
i like twix the most pure chocolate is just .... blah to me

• United States
15 Mar 07
Hershey's with almonds is the best. I just love chocolate. I'll take a bar of hersheys with cream cheese anyday.

• India
15 Mar 07
mine in Cadbury`s dairy milk.try it, u will love it too.

• Philippines
21 Mar 07
Mine's Cadbury Hazelnut and Fruit and Nut. It actually depends on my cravings. I also love Baby Ruth and KitKat ;) White toblerone is definitely a must too! :) When I watch movies, I always bring with me M&Ms peanuts! Yummmy! I only eat Ferrero Rocher every Christmas and New Year, hehe..

• Latvia
20 Mar 07
Mmmmm......chocolate :) My favorite brand is Finnish brand called "Fazer". I just can't resist it! I don't really like totally dark chocolate, but white milk or brown chocolate! There are several other kinds of chocolates that I've tried but It's impossible to remember them all :) have a great chocolaty day! :P

• United States
20 Mar 07
i love HERSHEY's above all . . . lots of choices or varieties of chocolates from plain to nuts and fruits or the most common KISSES plain or with filling ! next choice i will grab is TWIX cookie chocolate bar .