This one pays higher than mylot!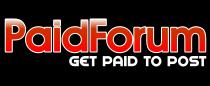 Philippines
March 15, 2007 1:24pm CST
hey guys, have you heard about paid forum? they say it pays higher than mylot! actually, it really does! just for signing up you will automatically get $5! and then they pay you $0.5 per new thread you posted, $0.01 per reply and $1 per referral. i think it's also cool there! if you want to sign up please click the link below.. thanks! http://www.paidforum.net/?referrerid=3134
5 responses

• Malaysia
18 Mar 07
This one pays more than Paid forum. 5 cents per post and 10 cents start topics. With minimum payouts only USD 10 dollars to e-gold. really nice to join Join here FREE http://goldposter.net/profile.php?mode=register&refer_id=985 Good luck and all da best ;-)

• Malaysia
18 Mar 07
There's many proves of payment there, check them out!!


• India
15 Mar 07
Thank you for your information, I have already joined this and trying to make some money faster.


• Romania
15 Mar 07
i've heard of the forum, in fact i've already signed in and it's true, it does pay more but i'm waiting to see if it really does pay you. so it's kind of a probing period. it would be nice if someone could show a payment proof but i guess everybody is only at the beggining. good luck to all of you!

• Philippines
15 Mar 07
thanks for posting! i hope it works out fine just like here in mylot! :)