Have you seen the movie Lost Boys? Who is your favorite character from the

United States
7 responses

• United States
16 Mar 07
This is one of my favorite movies actually. I love it. The humor that is in it really makes it great. Not sure on a favorite character since I liked all of them. Sam though was neat with how he handled things along with the Frog Brothers :) Here are a couple of quotes I like: "You're a blood sucking vampire, Michael, oh you just wait till mom finds out." "It's the attack of Eddie Munster" "Great the blood sucking Brady Bunch" "One thing about Stanta Carla I never could stomach...all the damn vampires." My favorite song is "People are strange when you're a stranger." Ok I might have to pop this into the DVD player and watch it now :)

• United States
16 Mar 07
You're quite welcome. I'm glad I could help. It is a bit creepy when they are showing all the strange people around them. Amazing how little things like that can freak us out.

• United States
15 Mar 07
Well my fav character and my favourite are easy....Sam (fav charac.) in the tub singin his little a$$ off LOL I LOVE that part!....Second fav character would be Nanook just because omg what a gorgeous dog!! Third fav would be Billy Wirths character cause he was SOOOOO nice to look at LOL Favourite quote..dont have one..fav song Cry Little Sister (LOL that used to be one of my floor shows when I was stripping LMAO) Lost Boys is such a great movie!! Both my kids have seen it and they liked it too which is cool :D

• United States
15 Mar 07
Cry little Sister is my next favorite after Beauty has her way. I love the bath tub scene too it's hilarious.

• Ireland
15 Mar 07
That is a tough one to recall, actually. Keofer Sutherland would be my favorite, and the scen where they were all flying/levitating upwards. I can't remember the soundtrack, I'm afraid.

• United States
15 Mar 07
I really like this song "Beauty has her way" and I think it's by Mummy Calls.

• United States
16 Mar 07
I love that movie. Hrm..I guess Michael'd be my favorite charscter, either him or David. Favorite scene..probably at the very end, when Lucy's Dad walks over to the fridge, takes out one of his rootbeers, takes a sip and says, "The one thing about Santa Carla that I never could stomach: all the damn vampires." They just stare at him..their expressions are so priceless XD I don't have a favorite quotes..if I had to pick it'd be..ALL of them lol. My favorite song'd have to be People are Strange by The Doors. It's like my family's theme song now sadly lol.

• United States
16 Mar 07
Oh My God. This used to be my FAVORITE movie. I must have watched it a million times when I was younger. I think the Frgo Borthers might be my faorite characters, Followed by Sam, and (Like Raven) Nanook! I also used to get a total kick out of the fact that Alex Winters (Bill from Bill and Ted's Excellent Adventure), was a vampire! Here's another vote for the bath tub scene....In fact I think that song might get my vote for favorite song too. I also like the scene where Sam first meeting the Frog brothers in their comic shop. "What are you from Krypton?" "Pheonix actually, but lucky for you, we moved Here." (that might not the the exact quote). I also love the quote at the end (and listed in the above post) by the grandfather about the one thing he never could quite stomach :-) Great topic!

• United States
15 Apr 07
I used to watch this movie all the time when I was younger. My older sister was a huge fan of it and as a result the two of us used to watch it together. I remember how she would love to sing along with the scene where Corey Haim is taking a bath. We were both also crazy about Nanook. The fun thing is that the movie got better as I got older. I found that once I was older, I could understand the jokes better and realize that some parts of the movie are actually quite clever. I also got to appreciate how cute young Keifer Sutherland was. Here are a few of my favorite quotes: David: What, you don't like rice? Tell me Michael, how could a billion Chinese people be wrong? Sam Emerson: And then his dog started chasing my mom like the hounds of hell in "Vampires Everywhere." Edgar Frog: We've been aware there's some very serious vampire activity in this town for some time. Alan Frog: Santa Carla's become a haven for the undead. Edgar Frog: As a matter of fact, we're almost certain ghouls and werewolves occupy high positions at city hall. Alan Frog: Kill your brother, you'll feel better. Edgar Frog: This is just a cover; we're dedicated to a higher purpose. We're fighters for truth, justice, and the American way. And hte list goes on and on...

• United States
14 Apr 07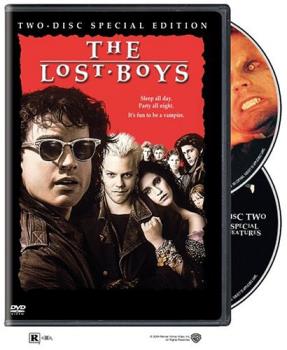 How the heck did I miss this post??? This was one of my all time favorite films and I think I wore out two VHS tapes before I finally broke down and bought the DVD. Favorite scene - when they are underground and Michael is first hanging out with them. "How are those maggots Michael?"