little black dress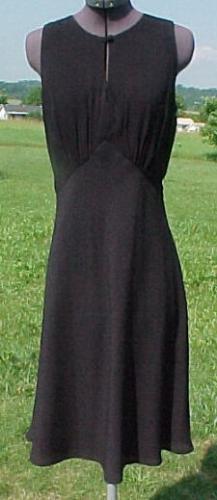 United States
March 16, 2007 9:55am CST
This is a question for the females. Do you have a little black dress that you wear for that night out occassion? If not do you have another outfit that you cn awear & feel great in? Mine is not a dress but it is a black outfit. I bough the top for a wedding tomorrow & I like how I look once I put it all together.
4 responses

• United States
16 Mar 07
A little black dress as in ONE? I wish. I have 3 or 4 of them. I am trying to find the perfect little black dress. I have one very plain velvet one that depending on the jewelry can be very dressy or just nice for work. But, it is highly comfortable. Then I have a very little black dress (if there is more than 2 yards of material in the entire dress I would surprised). Then there are some others floating in the closet. Not to mention the several basic black skirts I have. Face it, black goes with everything. So, I have a bunch on hand for that occassion when I can't think what else to wear.

•
20 Mar 07
I am quite cuddly so I really do not have a little anything lol , but I do have navy slacks and a favorite white top that when I wear them I feel quite smart , I honestly feel if you fel good then you usually look good xx

• United States
10 Apr 07
no, honestly I don't. WHich is surprising to me, i just realized I don't really have anything that fits me right now.. that's kind of sad. My baby is only 7 months old, and I have just begun a diet/exersize routine, trying to loose the last 15 pounds or so. Hopefully I'll fit into an old one, but then again, I think I'd rather buy a new one.. (:

• Philippines
10 Apr 07
i only have two black dress. i just bought the other one yesterday. im planning to wear it tomorrow for a party. its really cute because the dress really flatter my figure so i cant wait to wear it!!