Do You Believe Animals Can Watch and understand Tv?

United States
March 16, 2007 3:09pm CST
Well I do...lol One night I was watching Cujo, and my golden retriever was laying by me, also watching it. And it def. looked like she was paying attention. Well that night my dog slept on my bed with me and I woke up to her standing over me, whining. When I woke up and said her name she layed down on me and started whining really loud. She was pushing herself against me trying to lay down with me. She was really scared and I was sure it was because of what she saw on Cujo. What do you all think about this?
4 responses

• United States
16 Mar 07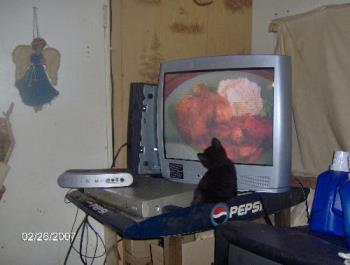 My cats tend to watch the tv more than the dogs do. But they like to bat at the tv. My dogs will look at the tv when they hear a cat meow or another dog bark. I have heard that you should leave the tv on when you are not at home to help keep the animals occupied so maybe there is some truth in their understanding. I think they understand. Here is a pic of my kitten watching tv. I thought it was so cute.

• United States
16 Mar 07
omg! lol that picture is soo cute! I love that kitty! I bet he thinks that food looks really good lol. I never heard you should keep your tv on when you rnt home O.o but i dont think my mom would go for that anyways lol

• United States
16 Mar 07
I just realized that we were watching the food network when the cat did that. Maybe she was hungry.lol. As for leaving the tv on, I also heard that you can leave a radio on too. It works just the same. I guess it makes them feel like they are not alone.


• Canada
19 Mar 07
I think that animals can understand what they see on TV to a certain extent. I think that they understand TV just as much as they understand everyday events that they are surrounded with. For example, I think that they could sense when someone is excited, scared or angry on the TV. I think that it's quite possible that an event on the TV could've startled your dog, it's cute that she was cuddling up to you for protection and comfort.

• United States
19 Mar 07
yeah i agree with you 99.9% (this % nvr really make sense to me =P might as well say 100!) lol. My golden retriever is still the sweetest dog now, and loves everyone. Its no wonder she was scared by a mean dog, she doesnt think that can exist! lol.

• Ireland
19 Mar 07
I had a golden retriever and every time he heard the theme music to star trek he galloped into the room and sat in front of the tv. Sometimes he would even sit there just before 5pm when the series was about to begin. I think he recogised the end of the programme that was on prior to star trek. As soon as it finished, he would be off about his business again.

• United States
19 Mar 07
lol how cute! My cats and dogs dont have any faves they watch on tv. The'll just watch w/e is on lol. But its cute that he recognizes the episodes and the time.

• United States
16 Mar 07
Aw, it could be because of what she saw on tv. I believe dogs understand far more than we give them credit for. Mine poke their heads up for cat food commercials. lol!

• United States
16 Mar 07
lol my cat also watches tv. he'll sit on the couch, clearly watching whatever we have on. Then when certain commercials or things come on he'll walk up to the tv and stretch out his paws to touch whatevers on tv. lol