If You Had An Ugly Boyfriend.................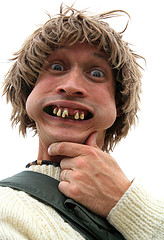 United States
10 responses


• United States
17 Mar 07
I would almost be more ashamed to bring a hot girl home who was socially retarded!

• Philippines
17 Mar 07
if you really love him then you wouldnt be ashamed showing him off. It's way more than they physical. It's the feeling that counts. If people will laugh at you it's because they are envious to have not found somebody whom they can stik with. My boyfriend isnt that good looking but am just happy to have him!

• United States
17 Mar 07
Why date the guy if you think he is ugly? I am all for finding someone with personality AND beauty. I have known my fair share of good lookers who had nothing upstairs... This is why it was a bonus when I met my wife...beauty and brains! I snagged her ASAP and never let go! Now I don't have to worry about bringing her home.

• Aruba
17 Mar 07
Having a ugly boyfriend isnt a problem for some girls. Many girls have ugly boyfriend but is only interested in their money.It's been a long time that i havent seen a beautiful girl with an ugly boyfriend.I've only see ugly girl with ugly boyfriends.If tour ashamed to introduce him to your family,that means that you dont love him and is only interested in money or other material stuff

• United States
18 Mar 07
I've had ugly boyfriends and I took them around my family all the time because I wasn't into the so called beautiful and handsome people. I look at the heart and how I'm treated. Although I do admit that handsome is easier on the eye (eye candy). And when the ugly boyfriend makes you angry they appear to be even uglier. lol. But when the handsome man makes you angry then you don't have an ugly face to look at.

• Philippines
17 Mar 07
If i have an ugly boyfriend i will never be ashamed to introduce him to my friends and even to my family. why have him as my boyfriend when im not ready to show him to the people. i love him so i must therefore be with him. Looks may be important but its the good qualities i love about him. they may only see the physical aspect but its different on me.

• Philippines
17 Mar 07
For me theres no reson that if you have an ugly boyfriend you will be ashamed of it, because you are the one who make the choice to be her boyfriend, no one force you unless you are not serious on that person.

• United States
17 Mar 07
Who could ever love a beast? -Beast, Beauty and the Beast lol


• China
17 Mar 07
I think if I choose a boyfriend, I would focus much on his appearance .Because I don't think I worth an ugly man. But sometimes , love is blind. And if you find he is not so handsome, he should be some talented in some other part,such as that he is very gentle and so on.