Which Chat Program (Instant Messenger) Do You Use?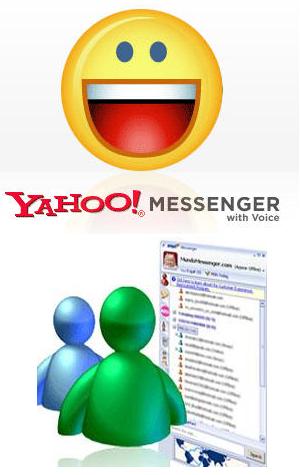 United States
9 responses

• Italy
18 Mar 07
I use gaim, with this software i canuse my msn and yahoo account togheter (in the sane moment), gaim support other protocol too (like irc, kadu kadu, etc)

• Philippines
17 Mar 07
Most of the time I make use of gaim for ICQ, jabber and yahoo messenger. I only use gyachi when I need video for yahoo messenger. I also use skype in some situations like over a firewall for file transfer and when talking is better than typing messages. My primary system is Linux.

• United States
17 Mar 07
I use Trillian just for the simple fact that I have accounts with AIM, msn, and yahoo. And it would be difficult to keep all three windows and buddy lists up and still do my daily online jargon. Trillian is the simplest to use, and I can use Trillian anywhere and have access to it from any computer I sign on from.

• United States
17 Mar 07
I like yahoo and Aim I donot like msn at all. My space has a good messanger as well.

• United States
17 Mar 07
I use 2. Yahoo messenger which was my first one I used and a new one called IMVU. With IMVU you create an avatar and then you use your avatar to chat. All you do is type and a thought bubble appears above your avatars head when you hit enter the person you are talking to will see what you typed. It is cool because you can dress your avatar how ever you want and you get to chat in rooms too. It is loads of fun.


• Philippines
21 Mar 07
hi there, i uses yahoo messenger, MSN and skype..