My Air Plane Ride from Nova Scotia to South Dakota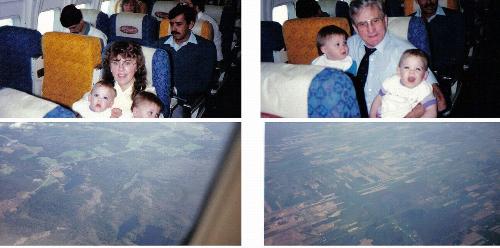 Canada
March 17, 2007 3:57pm CST
In 1985 my husband was finishing his last 6 weeks of seminary .He was really busy and had to spend a lot of time finishing off projects and getting ready for exams. I decided that that was a good time to take a trip back home to visit my parent. So I made the trip and I went .I had a wonderful time. On the way back I had to fly through Halifax, they asked me who was accompanying me ,and helping me with my twins. I said I am flying alone. That caused quite a stir apparently I was not supposed to do that. I didn't know that each person on the plane was supposed to have an air mask. They told me I needed some help. I was kind of panicked , but I knew that I had no problem in South Dakota with this, so I was confident that someone would help me. Sure enough there a group of gentleman getting on the plane right behind me. They were from the Annapolis Valley were I had been visiting . These men were on their way to see the Indianapolis 500. I thought that was way cool . One of the men was a man by the name of John Morse . He is is shown in the picture holding the girls. It turns out he was the brother of a teacher that I had in High School. Talk about a small world. I thanked the Lord for going before me that day and preparing the way for me. I suppose now with all the new plane regulations and rules I wouldn't be able to that again . And now you have to have Passports to fly back and forth between the two countries. Times have changed !
4 responses

• United States
17 Mar 07
Great story! You are right on the money when you said that the Lord prepared for you that day. Nice to have some divine intervention when the going gets tough.

• United States
20 Mar 07
This was some wonderful writing. Wow, I did not know that each person was supposed to have a air mask. I have never flown in a commercial plane before. That is so interesting that this man was the brother of your old teacher. Heavenly Father send you some help just when you needed it.

• Canada
17 Mar 07
yep things have certainly changed that is for sure. It was great that you had help, but I am sure if it happened today you would still have help. I think it sucks about the passports though

• Australia
17 Mar 07
What a nice story. I know a lot of things have changed, sometimes not for the better. It costs a bit to get passports. I love the pictures you have shown also the man looks very nice. You looked like a proud happy mother also. Thankyou for sharing this story.