what should be corrected in the team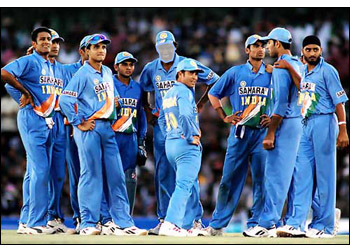 India
March 18, 2007 6:18am CST
india lost against the bangladeshis yesterday there was no signs of fight back from india what all changes should be made in the teams tatics and strategy in the next mach every one will be having their opinions i am sure bcoz there were rooms for commenting in india's perfomance so tell me u r suggestions
9 responses

• India
18 Mar 07
Hi, it's nice of you to concentrate on the solutions rather than rueing the loss. I feel we will benefit from the following changes. 1) Drop sehwag; let uthappa and ganguly open. Bring back kaif (if possible now) in middle order instead of sehwag. He was the best hometeam batsman when we toured the caribbean before, is technically sound to combat the slow wickets there and one of the best fielders india has ever produced. If that is not possible, induct dinesh karthik in the playing 11 in middle order 2) Bring Romesh powar into the team and playing 11. I don't know if that's possible but he's a wicket taking bowler and is definitely a better bat than bhajji 3) Our bowler need to be more aggressive. Munaf patel has to be pressurized to bowl faster as he is capable of bowling 140 km/hour consistently 4) Both zaheer and munaf have to bowl more yorkers to unsettle the batsmen as they are capable of doing it. Had they done it against bangladesh, may be we would have got a couple of wickets more and would have pressurised them in the end 5) Sreesanth is a better bet than agarkar under the present circumstances 6) Finally, world cup is a stage where even the most experienced of cricketers should feel humble and play with humility. It was completely lacking in Indians. They played as if the result was a foregone conclusion Thanks.

• India
18 Mar 07
I think pathan should be in the team especially considering his past performance Vs bangladesh........

• India
18 Mar 07
sewagh should be replaced by dinesh karthik and robin ang gangulu should open the innings it s better to include sreesanth in the team

• India
18 Mar 07
i think the indisn team lacks spirit they should understand their roles in the team and play accordingly

• India
18 Mar 07
I think the first person to be chopped has to be Ajit Agarkar. He is a gutless cricketer and is consistently inconsistent. Why do you need him when you have Kumble, Sreesanth in the bench? Next up, I am pretty sure that the experimentation with Sehwag would be called off. Uthappa would open with Saurav in the next game. Cheers! Ram

• India
18 Mar 07
bangladesh played unexpectedly well. their coach did the job without any fanfare. for india well they always lose the first match of any series. nothing new. only exception was 1983 world cup team which won the first match against westindies. but for them cricket was a passion. for the present players cricket is a money making machine

• Switzerland
18 Mar 07
It was just a bad day at office. I hope they will improve on their performance in the coming matches. They let the opposition bowlers to apply pressure on them. The bowlers gave extras. If they correct these things, they will win.