what do you think your angel looks like?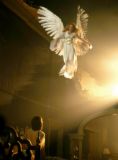 Philippines
March 18, 2007 9:16am CST
almost all of us believe in angels. they are there to guide us and keep us safe all the time. they are sent from heaven to be with us. some of us have the capability to see them and most of us does not see even a shadow of those wonderful creatures. do you believe that these angels once lived here on earth and died and gone to heaven? or were they angels ever since the world began? if so, would'nt it be nice to notice that as you open your eyes for the first time, you have wings on your back. if given a chance, i'd rather be an angel. don't you think?
3 responses

• United States
4 May 07
An angel looks like me, because I am a angel. I say this because I have saved my hubands life so much. and I think god sent me to him.

• Philippines
5 May 07
I think angels are shiny, white creatures. I think they are very smart and beautiful people. I also think that they have delicate features with a perfect smile. I would like to think that they are heavenly creatures without wings. Some angels come into our lives but we don't usually notice it, they come everyday in simple ways that are just mre memories or even a flick of our existence that we don't notice, changed our lives forever.

• United States
5 May 07
Thank you for best response, It is true though I really believe that. God Bless you and your family! have a nice week-end!