Role Reversal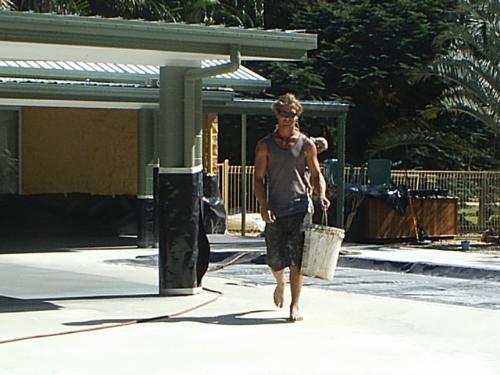 Gold Coast, Australia
March 18, 2007 7:56pm CST
Do you find that you do more of the "man's" jobs round the house than your husband/partner? I do! For instance, this weekend I have been laying pavers outside our front door area in the blazing hot sun whilst he sits inside on his computer! He is just no good at things like that and I always end up doing them myself, otherwise it never gets done. Admittedly, his health stops him doing a lot of physical jobs, but sometimes I resent it. I should be used to it, we've been married for 40 years and it's always been that way but I'm getting a bit long in the tooth for the heavy jobs; just wanted to get it off my chest to my MyLotter friends! Anyone out there in the same situation?
5 responses

• Singapore
22 Mar 07
I'm not commenting on the role as husband and wife, just as a man and woman as I'm not married yet. In my household there are my brothers who practically ignore those housework. We woman do everything. Sometime when the bulb is out, I do the change myself, waiting for them to do, I think I will be in the dark..lol. Likewise to carry heavy sack of 10 kg of rice and other grocery for the household, only my sister and I do that. Lucky things, I quite capable of handling electrical goods and can do some minor repairs here and there. It will be ages to wait for my 2 brothers to do the guy job.

• Gold Coast, Australia
22 Mar 07
You need to get your brothers up off their backsides and help you girls with some of the work. I've found that if you let men get away with not helping, they will take complete advantage and let you carry on doing everything. Your brothers know you are capable, so let you get on with things instead of being a gentleman and helping out. My husband isn't lazy, he's just very limited in doing a lot of stuff because of ill-health. I know he feels guilty so he makes up for it by cleaning the house, shopping, and sometimes he cooks.

• Singapore
23 Mar 07
So nice of your husband to help in ways that he can. I should heed your advise then. Perhaps I would go on strike like not cooking when the rice is finish and never top up the grocery when they are running low. If my brothers make noise, then I should make noise too..crazy huh.

•
27 Mar 07
This has always been the case in past years ,My hubby is very clever as are my 3 sons but hubby has never been a handyman , I was an only child and my dad taught me to do DIY , even sawing and changing plugs electric sockets and such so hubby never had too , but before he had the bypass he was brilliant at vacuuming and kept a lovely clean kitchen , i did the dusting and the ironing , He still doesn't vacuum bet he does the washing and the dishes , we make a good team but then it has taken me almost 46 years to get him perfect lol xx

• Gold Coast, Australia
28 Mar 07
I know where you're coming from weemam, it's taken me 42 years! lol My husband must be the world's worst handyman, but he does know a thing or two about car engines! However, ill health prevents him from doing a lot of things, but like you, we make a good team, and both of us just get on with what needs to be done (whoever can do it). I was just having a moan when I started this discussion! I'm over it now!

• Australia
19 Mar 07
Oh no Abbey, my husband is really good in this way I must admit. My husband always helps in regards to the home with nearly everything. I can understand you that you would resent it as I think that I would too but I am spoilt in the way of our home now that the children have grown up, as he helps me with the cooking, cleaning up the home he even puts the washing out into the lovely sunshine, but this is due to he knows that I had it really hard and had to do everything bringing up our children while he worked night shift and I had to do everything. with our children.

• Gold Coast, Australia
19 Mar 07
Don't get me wrong Kathy, my husband helps in the house - he cooks sometimes, he cleans, hangs the washing out, he even irons and does a lot of other stuff for me. He is good that way, which makes up for not being physically able to do the heavy jobs round the place. He feels guilty seeing me doing jobs he knows I shouldn't be doing, but there is nothing he can do about it. I know that if his health was better, he would do these things for me.


• Gold Coast, Australia
19 Mar 07
If your husband is fit and healthy then there is no reason why he can't do some of the work round the place. You shouldn't have to do it all. The reason I have to do these things is because my husband has bad health and is not physically able to do heavy stuff, but he makes up for it in other ways by cooking sometimes, he cleans the house, he irons and often does the grocery shopping. I know he feels guilty not being able to help with the heavy stuff, but there is nothing he can do about it. Thanks for your response.

• United States
19 Mar 07
It is something that happens with a degree of frequency at my house...my husband also has some health issues but mostly I think it's because we have 2 different ideas about what NEEDS to be done...so it's easier to do it or hire it done...He has a job that includes many night meetings and activities plus some pretty long days..but my days are long also..Lately I haven't been getting any projects done...I've had a viral lung disorder..and I'm jsut seeing the light from that!!! But good weather and good health will see me out doing all the things my neighbors husbands are out doing!!!LOL

• Gold Coast, Australia
19 Mar 07
Sorry to hear about your lung disorder, it sounds like you have been quite sick. I don't normally mind doing these kinds of jobs, but sometimes I just like to have a whinge! My husband is a good man in other ways, he cleans the house, irons, cooks the evening meal sometimes and often does the grocery shopping; he feels guilty about not being physically able to do things round the place, so he makes up for it in other ways. Thanks for responding and I hope your health improves. Don't be working too hard though when it does, you gotta take care of yourself.