how many godchildren you have?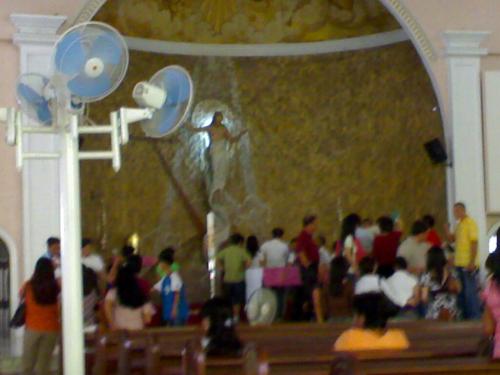 Philippines
7 responses

• Philippines
20 Mar 07
i think i have around 20 (more or less).

• Philippines
20 Mar 07
hi, still a huge number.. others just have 1, 2 or 3. i think only in Philippines that parents get more godmother or godfather for their child. thank you

• United States
20 Mar 07
I just have 2 godchildren. Most of my friends haven't married yet so probably later in life, I will be having more. I know that my mother has probably 50 or more. And I told her, no more...lol.

• Philippines
20 Mar 07
hi there, 50??? oh, your mom beats me hehe.. don't be in a rush, once your friends got married you'll be surprise you need to attend baptismal evrywhere. :)

•
19 Mar 07
Well, I am not Catholic but I am familiar with the concept of godchildren. Thats wonderful that your friends have pick you to be a godparent to their children. Thirty-five is quite a few.

• Philippines
20 Mar 07
yes, it really a big number. friends whom i met during schooldays, on my first job, second and up to now. whoa, and there are 2 baby's christening soon, my 2 friends just call up about it. :)

• Philippines
19 Mar 07
I have 41 godchildren and there are even some godchildren that I haven't seen ever. Some friends & cousins just call me and tell me that I would be a godmother and I could just send a proxy since they live in another country or region.

• Philippines
20 Mar 07
hi there, that was so many.. :) good some of them not living near to you, hehe you really need to have a big budget during holidays. thanks!

• Canada
19 Mar 07
I only have one and it was so long ago I think she is 35 years old by now. Don't even know anything about her or where the heck she lives. I guess it was something that was not taken too seriously back then.

• Philippines
19 Mar 07
that means you owe her a lot of gifts. wait 'till she saw you, you need to pay her on those years without receiving anything from you. :) thanks!

• Philippines
19 Mar 07
let me see.. 10 on me, and 25 on my hubby,, and at yuletide season,,we'll make sure that each and everyone of them got a present from us!

• Philippines
19 Mar 07
hi, wow you are a good godmother & godfather then. during christmastime, i tried to bought presents for each of them but i don't know where to find my other godchildren. :)

• Philippines
16 Sep 07
i think i already have 4 or 5..lol..i already forgot..wow..you have lots of godchildren..how you give them gifts on christmas day? lol