Lego's!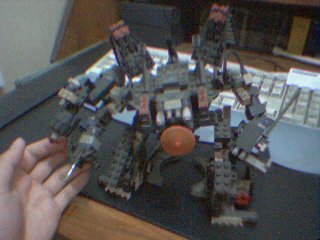 Philippines
7 responses

• Canada
27 Mar 07
I was never good at constructing with Legos but it seems to me my kids made all kinds of vehicles and buildings and animals over the years. Is there anything more painful than stepping on Legos with stocking feet in the night on the way to the bathroom?


• Philippines
22 Mar 07
house, with all the flowers, garden chairs bbq place. nothing robotic and nothing movable. but i enjoyed every minute of it.

•
19 Mar 07
That was in another life,lol.Well, the shapes I put together were unmatched.Know why? That's because no one could tell what I made ! Not even me,lol.They could go for anything you wanted them to be,lol.But I know creative minds have always had it tough :-PLOL Maybe I'll try again when I have kids,lol.


• Philippines
7 May 07
wow! LEGOS are just one of the things that could really bring out the creative inside anyone! unfortunately, all i could make when i was young were cars, trucks and all types of aircrafts with weird cannons, wheels, etc.. heheh.. that's because i only have a few pieces.. ahehe