Why do people brag about getting drunk??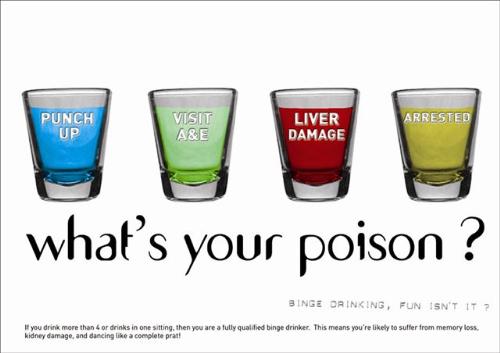 United States
March 19, 2007 8:55am CST
I do not consider myself much of a drinker. I have occasionally gotten drunk and most of the times I was at a New Years party or some other kind of party. I don't just go to a bar and get wasted, but I know people that do. What I can't understand is why? Why go to a bar, waste tons of money on drinks and then risk your life and everyone else who's on the road's life with you? A co-worker of mine comes in every Monday and brags about how drunk she got and all this other crap, can anyone tell me why people do this?? Please share your thoughts!
4 responses

• Kuwait
19 Mar 07
most people who drink has a problem i said most not all because some of them drink just for fun.i didn't say i'm a drinker-occationally if i'm in the mood but still i know how to control myself specailly infront of public or other people because i know it's gonna be embarassing to vomit or do some silly things when you're drunk.i've been drunk before but i still know what go'n on it's just you can't even stand up or walk.hope you got my point or idea here.

• United States
19 Mar 07
Yes I did, thanks for commenting. A lot of people take getting drunk to the extreme and I agree some have problems. I think you have a problem when you come in every monday and explain how you got so hammered Saturday night. Or the people that are passed out for hours upon hours and when they wake up they have no clue how they got there or where they are for that matter. People who get drunk that often need to take a good hard look at why they are drinking in the first place!

• India
21 Mar 07
i am a regular drinker , and i have i have at my room only as i stay in hostel, but whenever bunch of friends come down we go to bar as we have lot of choices to drink and every one has different in my friend circle , then the service is provided nicely and the best bars in the city are very close to my place so its not that hard matter for driving....infact there is one 5 star on the same street where i stay....... and then after getting high we feel like roaming after all night places so we specially go out ...get some new chicks to have fun............cheers

• Canada
19 Mar 07
I have also wondered this. I mean I understand why people talk about how drunk their friends have gotten, because they see humour in that. But why do people talk about how drunk they got as a matter of pride? Why are people so proud of how drunk they got? Also, another thing that gets me curious is when I hear people PLANNING to get drunk. Why would you DECIDE to get intoxicated to such a point that you cause brain damage? It makes no sense.

• Canada
19 Mar 07
Well I myself have always wondered this and all I can come up with is these people think its cool to get trashed. I use to drink on and off and got really hammered a few times but when you hear stories of how you where acting that night and you feel so sick the next day you figure whats the point. These people are just promoting a bad lifestyle in my eyes and any young child around anywhere to hear this kind of thing will have the totally wrong idea about drinking.