Forex Trading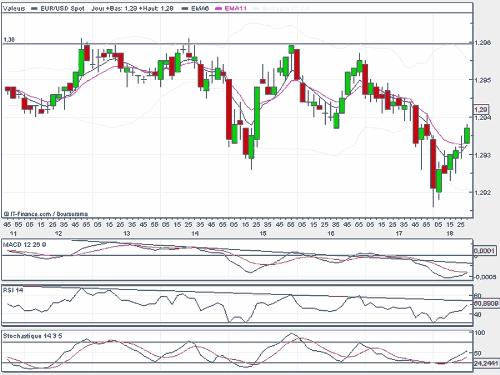 Philippines
7 responses


• Hungary
29 Aug 07
I think all online Forex brokers allow you to start with 1 buck. At my broker I didn't get 5 dollar reward, in fact I got no reward at all. I think that you should start it with 10 dollars, because with less money you can earn only a couple of cents/trade Try the demo of an online broker. But before you actually invest there are two major issues that you need to consider: 1: margin. This means that you can actually trade with more that what you invest. That maximum allowed margin rates vary from broker to broker. I personally use the 50x margin, but you can even choose a 1x margin, which is simply the money you invested. This is how margin trading works. Example: If I inves 10 US dollars and choose a 50x margin that means that I can trade with 500 US dollars. Any profit or loss that is made on the 500 US dollar is what you make, or loose. Here I would like to point out the most important issue of Forex trading: because of margins you can earn real huge returns 200-300% is not extraordinary (compared to China and India stocks 50% increase), but at the same time, you could also loose literaly all you invested quite fast, whereas trading without margin, like stocks trading, you only loose what your own money lost. 2. Another way you will automatically earn, or loose money is through interest. Example: say you buy (open long position) a currency pair of USD/Yen (US dollar/Japanese yen). If the the central bank (FED in US) rate is 5%/year in the US and 0.5%/year in Japan than your automatic interes earning is 5%/0.5%=10%/year. This 10% is divided by the number of day your position was open (didn't close long position). On the other hand if you short on (open short position) USD/Yen then your interest is just the opposite: 0.5% (yen interest)/ 5% (USD interest)=-0.10% per year divided with number of days position was open. This is how much you lost on interest. Interests cannot be disabled: no matter what broker you go you will have to consider interests So your actual profit or loss is the sum of your trade profit and the interest profit or loss. I actually don't recommend Forex to newbie investors. Try stock market (although in stock market primarily company news matter, whereas in Forex countries' news matter), just to get a feel of it, and to somewhat learn the pshycology of the market. Also use technical analysis (analysing trends in charts). I think the best investing educational site is www.investopedia.com. Type technical analysis in that site's search.

• Russian Federation
19 Mar 07
I have had about forex trading,i have even sign up for there free practice account before,and the website is different from the one you are stating here,can you convince me that this is not a scam.if not can we get an evidence that you have been paid by this site.

• United States
18 May 07
Sallore: You should look at changing brokers because marketiva is a scam. Try forexbastards.com The website has reviews on many forex websites.


• Canada
19 Mar 07
I know this website but I don't think it pays soon though. you have to wait some years i think and it may not be paying you still

• Philippines
19 Mar 07
maybe you found a scam but this one is true and they will pay you very fast. start trading with as little as $1. no commissions, no exchange fees. open your account and get $5 reward. it's free and it will only take 5 minutes. http://www.marketiva.com/?gid=11415

• Canada
19 Mar 07
Ok first of all I don't know anything about forex trading I think I will lose money there rather than $ 5 reward. What is forex trading all about? you just buy and sell foreign currency like that?

• Philippines
19 Mar 07
don't worry because there is virtual money that you can use first so you'll learn first before investing. a virtual money is like a sample money. the virtual money is $10000 so you can have a lot of time to check how is it done. try it and there's no risk


• Philippines
19 Mar 07
Hello!!! I want to learn more about it. Where do you think should I go? Are there websites who offers specific instructions and detailed explanations on how forex works? thanks =)

• Hungary
29 Aug 07
I do trade Forex in my free time. I am at www.oanda.com. They have one of the lowest fees. Beside their forum and customer service (the later is great: I once wrote them a question in email and was answered within a few hours), they have a demo account where you can trade with virtual money, just the same like real trading, but no real money is involved. You can use the demo as long and as much as you like, I think the virtual money that they give you is 10 000 dollars.

• Pakistan
29 Aug 07
meta trader also provide demo account and for charting meta trader is best if u want to start live trading only for 1 dollar so go on to marketiva...they give free 5 dollar for your live trading

• Pakistan
29 Aug 07
there is no forex without charring and marketiva not provide clear charting and indicators so if u want to do aussum forex u must hava command on one indicator and indicator systems provide meta trader and some other

• Nigeria
8 Aug 07
it`s reall wonderfull no see a beatiful girl like on my lot who is tring to help me on forex. well i have to say i really need your help for that. i am new in forex so i want you to pls teach me some thing. my mail address is usdollars4sure
@yahoo
.com. waiting to see your reply.