13 puppies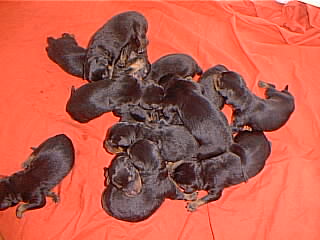 8 responses

• United States
25 Nov 08
Aww huge congrats!!! I miss the days when my rots were still alive! Our female had 3 litters of 13 & 4 litters of 11....it's a fun fun fun time!! Congrats again!

• United States
5 Dec 07
Wow,13 rottweiler puppies,that's alot!!They are so tiny but they definately don't stay that way for very long.They are really beautiful,do you breed rottweilers?Thanks for sharing with us...I always love to see pics of rottweilers.They are such beautiful dogs.

• United States
18 May 07
Oh how wonderful!!! Im sure hes proud!! And the puppies are adorable!

• Philippines
16 May 07
wow! that's a lot of dogs,13!now you have a lot in your hands .do you plan to raise them or give them up for adoption to your friends.sell them? how i wish i am there so i can have at least one.i like dogs and i find them very relaxing .i have 2 japanese spitz and one ordinary dog ,which is my favorite because she loves me so much.

• United States
13 May 07
Oh my goodness, congratulations! They are absolutely adorable! Rotts are my absolute FAVORITE breed of dogs. They are like huge, loveable teddy bears. I love, love, love them!


• United States
21 Mar 07
oh their so adorable.i guess that makes you a young mammal huh?lol

• United States
19 Mar 07
Congradgulations, they are beautiful. Thanks for sharing a picture with us. I adore puppies! They are so warm and smell so good.