How to get a baby to take a nap at the right time?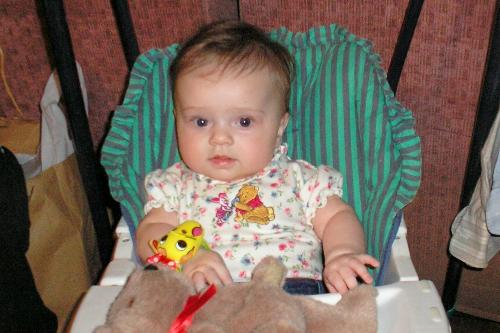 United States
5 responses

• United States
22 Apr 07
I read everyone's responses and I wish that I had read them a couple of years ago. I am living with my daughter and her three children, all sons under 8, helping each other out, raising the kids. We have the 2 year old boy who was a problem sleeper from the beginning just about. At first we had him in the carrier, a bassinet, that kind of thing but as he got older, we didn't have the crib yet so he slept in the living room on the couch. At one point both the baby and I got extremely sick. I mean we had a cold that was so bad that I couldn't sleep unless I was sitting upright because I just couldn't breathe and the baby was having the same problem. We had the same thing I guess. So I ended up holding the baby the entire time that he was sick and we both just dozed and slept on the couch all day and then at night his mom took him to bed with her. In our defense, we didn't think ahead and we didn't realize what would happen but here he is 2 years old and he has to have his mom almost all the time. And most often he has to be held or he won't sleep. And he has to sleep with his mom. It's not a fun situation. So I think my advice would be to stick with it, try to get her to sleep in the crib and whatever you do, don't hold her all the time when she sleeps. Because then that never ends. It's sweet when they are little like your baby but it really is a problem after a while. It's very hard to get anything done when you have to hold them at nap time all the time. I don't know what we are going to do to stop it for my grandson but we finally just gave away the crib because he would not use it and my daughter didnt' want to deal with the massive fight with him that would have been needed. I wish you luck.

• United States
21 Apr 07
I know it's hard, and as a new parent, the last thing you want to do is hear your child cry, but she must learn how to fall asleep on her own, my suggestion is to put her down when shes very drousy, after a good story book, and following your regular routine, sing to her for a moment, then leave. When she cries, timer her, give her 5 minutes initially, then go in and comfort her, w/out picking her up or talkign to her, leave after she calms down some, and repeat, you can move the time to 10 minutes if you are comfortable with it. She will continue the crying for a couple of days, but will learn that she has to go to sleep on her own, and will do so. She may still cry to settle down before she sleeps, this is normal. Most babies cry for 5 minutes ago before they settle into sleep, it's how they settle down. Hope I helped.

• United States
20 Apr 07
It is frustrating. I have a 7 month old. Until he was 5 months old the only place he would nap during the day was on the living room floor - on one of his soft blankets. When I transitioned him to his crib I would wait for his queues to show when he was tired, I would bring him into his room, lights low, rain machine one, change his diaper, and put on some lavender baby lotion on his chest... then I would just either rock in the chair with him or stand and sway him for a few mins and then put him down... it took a few times of letting him cry it out and me going in there to sooth him... but eventually he just got used to the daily routine... now if we are out running around during the day and we get home... no matter what time it is- i will do the routine and he will go down... Hang in there- as with everything with babies... this too will change! ~At Home Mommy~ http://mommyathomefornow.blogspot.com www.personalgrowthresources.net

• United States
19 Mar 07
i understand your worry i had a daughter who never slept unless we were holding her its called spoiled and i was told a baby can sleep for 15 min and thats all they need i would let her cry a bit but no longer than 20 min. not to worry they will work out of it in time if you dont go insane before that lol

• United States
19 Mar 07
Have you tried laying her in the crib and just holding her hand until she falls asleep? Babies depend on their sense of touch more than the other senses for a while. She just wants to maintain contact with you for her sense of security. Try holding her hand after you lay her down, then when she falls asleep you can ease your hand away. Once she she gets used to sleeping in her crib more, you won't have to hold her hand as often.