Who sleeps beside you in bed?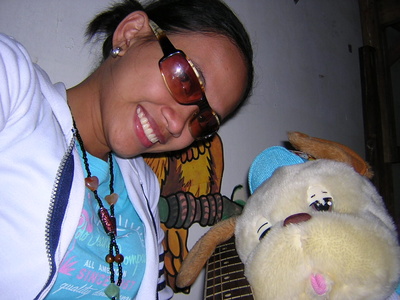 Philippines
March 20, 2007 1:03am CST
DO you have someone to sleep with in bed? If yes, who might that be? Is it your husband, wife, daughter, son, sister? I am currently living with my sister in an apartment. We share the same room but we don't share the same bed. We have separate beds, so that means she's not the one who sleeps beside me in bed. Aside from my pillows, I have one great stuff toy who's always with me everytime I sleep. It's my Doggie Bear. I don't have a real dog with me now. If I have one, for sure, it will be sleeping beside me. lol. I've got my Doggie Bear and it's the best i've got right now.:)
6 responses

• Philippines
24 Mar 07
I have a single size bed in my room. Meaning, if I would have to let others sleep other than me at the same time we might feel uncomfortable. So, I'm just the only one sleeps in my bed with my 2 large pillows and 1 extra large pillow.

• United States
22 Mar 07
My sig. other sleeps beside me every night! he is a big cuddly bear-- We just got a new cat yesterday-- and she (Gracie) sleeps with us now too--- She is a lover-- Always kneading her paws.. I woke up several times last night and she was right by my face!

• United States
22 Mar 07
I would like to say that I sleep beside my husband every night, but I usually play musical beds at night. I may sleep with him and all three of my daughters in any given night. Sometimes I wake up totally confused about where I am. Last night I fell asleep tucking my two oldest girls in bed. When my husband woke me up about an hour or so later, my three-year-old had crawled up on my back and was asleep all stretched out on my back and I didn't even know it until he work me up.

• United States
20 Mar 07
I have a wonderful stuffed bunny that sleeps with me, along with 4 or 5 cats! I don't sleep in the same room with the hubby anymore, because he snores so loud I swear they hear it in the next town. I'm somewhat of a light sleeper, and he used to wake me out of a sound sleep with all of his noise. At least now, we don't have to fight over the covers anymore. LOL


• Philippines
20 Mar 07
i slep with my hubby and my two little kiddos.but now,as they grow, we have an extra bunk bed for them.what i do now is put them first to sleep then transfer to our bed as soon as they doze off.