Which is your National new year day?

India
March 20, 2007 5:35am CST
Internationally we all celebrate 1st Jan. as commen new year day.Every nation has it's own culture and has its own new year day.When your new year starts? how do you enjoy the new year celebrations.Let us share the information.We all are intrested to know about your cultural activities.Our new year starts on the day called Gudhi padwa and the year we call as shalivahan shake and now it is 1929.Our year-- is counted according to MOON movement(orbital) with respect to SUN & it has 360 days.It is one of best holy day out of 3& 1/2 days.This year we have celebrated our Gudhi padwa on19th March.
3 responses

• Philippines
20 Mar 07
hi, our new year is January first and normally we waited for the 12:00 midnight of Dec.31, we have a few fireworks then the family eats together. We call it " media noche" its the new years eve.. a lot of food on the table and we also buy round fruits. they say, it brings money to the family :)

• India
25 Jun 07
Though majority of educated class celebrate 1st jan as new year, each state has its own new years day celebration on different days. For ex. Punjab and many northern states celebrate Bisaki as New y ear. In Tamil Nadu, 14th January is new years day (Pongal festival), In karnataka and Andhra Pradesh, UGADI is new years day which falls in March/April according to Hindu Calendar. In Kerala State, it is Onam festival which is new years day. Most states consider harvest festival as new year's day.

• United States
15 Jun 07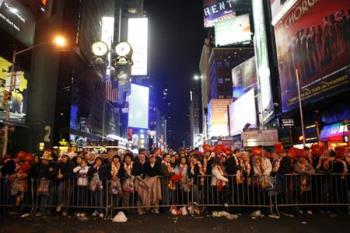 I know this is a little late but as we over here in the US say it is better late than never. Any I find what you wrote about your new year very interesting. Her in the US our new year starts Jan 1st at 12:00 am. The middle of the night. Our year is 365 and 1/4 days. Every 4th year we add one day to the calendar to use those 1/4 days giving us 366 days. We add that day to the month of Feb. We celebrate in a number of different ways In the big city of New York people gather in Central Square to watch a big glittering ball drop at the exact time of midnight. Then there are fire works shot off in different part of the country. I came to the east cost from the middle of this country there we just had parties. I now live on the east coast and here they shoot off fire works at midnight too. Some people have big parties. It is also a custom in the whole country that if you are married or have a girl friend that you are together so you can kiss each other. Some of the different areas might have some different customs but that is what I know about our New Year.