Nurse Charged For Murdering Husband And Dismembering Him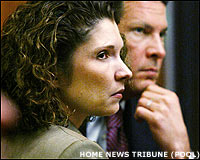 United States
March 20, 2007 4:59pm CST
In 2004, a woman, nurse, by the name of Melanie Mcguire is charged for murdering her husband by 2nd degree, dismembering his body and puts it in the suitcase and throws it over a bridge. Has anyone heard about this recent news. It's actually talked about a lot. Right now they are in court still investigating the case. I have to say she is guilty.
4 responses

•
21 Mar 07
I've not heard of this but will definetely take a look. It is always unusual when women kill, it is usually men who kill or commit violent crimes. Men in England often get quite light sentences when they kill their wives and girlfriends but women don't when they kill their husbands etc. Women usually get harsher punishments than men as well.

• United States
21 Mar 07
Well don't believe the hype that men are the only ones that kill. As human beings share the same aspect of human nature into some degree.

• United States
20 Mar 07
Maybe she had PMS when she murdered her husband. Maybe she and her husband had a fight and she couldn't control her PMS. Did you know PMS is a legal defense for murder? If she is also attractive, then attractive people have a lighter sentence than average looking people.

• United States
20 Mar 07
Oh no! With this case it was far beyond her having PMS! You should read up on the story.