When did you last hang out with your Friends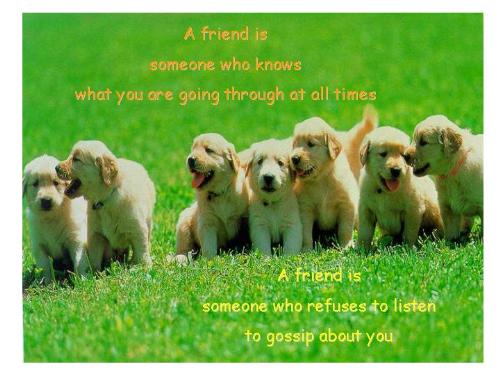 India
March 21, 2007 2:43am CST
When was the last time you met your friends let that be a party or a gathering or an ocassion or accidental. I last met my bunch of friends this weekend and we had a big party wowww that was soo nice .. we had some grilled chicken .. beer ... gossiping and it was like for almost 4 hrs of fun time. So come on ppl let us share:D
10 responses

• Philippines
21 Mar 07
Every month would be fine for hanging out with my friends. We are hanging out every month and have a merry getting together. This coming March 28, we'll be seeing again as group of buddies and friends for almost 10 years now.

• India
21 Mar 07
Once in every month is a good idea when we are busy and cant go out frequently

• United States
9 Apr 07
...my hubby and I have had our good friends (quite a few of them) for thirty plus years now.. We still get together four or five times a year, as each couple usually has a party once a year.. Usually New Years and then over the spring, summer and fall, a daytime/eveining get together. We think of ourselves as very lucky and happy to have our friends for so long.. Some of us, these days are going gray.. and even all white.. I guess these are our 'hippy' friends'.. then we have our biker friends we see two or three times a year.. yes, we are very blessed..

• India
9 Apr 07
Flowerchilde thats great to meet such a good friends whom you been in touch for years now. Thanks for responding.

• Philippines
21 Mar 07
for my high school friends, we've met last last march 10, 2007 because one of us is having a debut. It is so much fun. we eat, like a lot!! and we hang out beside the chocolate fountain which is super yummy. We danced the night away even though a lot of us have many things to do because hell week is coming up in college... :)

• India
21 Mar 07
You are still in college and gets time to party .. wow thats some thing interesting.

• United States
21 Mar 07
I get to see my 1 and only TRUE friend every day. She is my next door neighbor and my bestfriend. We get together every day whether it be at eachothers house or by chatting on the internet. No matter what we are always together. It drives my husband crazy. The thing he dosnt realise is that I am the only TRUE friend she has and trusts.

• India
21 Mar 07
hmm one best friend and meeting almost all the time thats so nice of u both

• United States
17 Apr 07
We usually hang out with friends almost every weekend. SOme time we arange a party at our home and some time one of our friend arange at their home. But last weekend it was a big party (for baishakhi and assamese new year) and our friends came from near by states also. It was a preety big gathering of friends. We enjoyed a lot.

• India
17 Apr 07
I know how we Indians celebrate festive occasions with friends. Thanks for your response.

• India
7 Apr 07
It was two weeks before all of us went out for a movie.Its a very tough job to get them all gather in one place but its always fun and joy to be with friends.We had a great fun in the theatre as wacthed out a great movie..we then went to a restaurant and had a loud talk there and finally back to home. Sometimes my parents say that i spend all weekends with friends and not staying home.

• Singapore
31 Mar 07
Oh man, it's been a while since I've hang out with my friends. I'm very busy with work, Law school, and all that I haven't had time for them. I really feel guilty. But I'm hoping we could hang out on my birthday. I would probably treat them to lunch or something.

• India
31 Mar 07
Wow , your birthday is on cards, when is that and can we expect a treat on that day ;) :P. Wish you Many Many Happy returns of the day. I last met my friends last night had a small party we did enjoy even though it was small.

• India
31 Mar 07
we made a heavy party last saturday after completing my 10+2 exams.

• India
31 Mar 07
How did u do your 10+2 Exams and by the way i guess u are from india right ?


• United States
21 Mar 07
some friends of mine and I went to a concert,rock, met some girls (girls we already have known since highschool) afterwards we went to a diner and had dinner. There were 9 of us..awkward. 3 guys and 6 girls. It was fun hanging with old friends.

• Philippines
21 Mar 07
The last time I've seen my friends in person was during the christening of my best friend's son last July 2006.. I've been busy with my own family life since I got married so I really dont have much time anymore to hang out with my friends.. I only get the chance to be with them online through Yahoo Messenger and Friendster..