Mobile Thefts a common Problem these days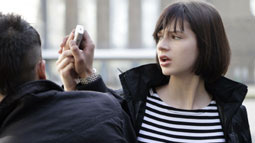 India
March 21, 2007 3:03pm CST
In india now a days mobile users are increasing day by day.Mobile has become a fantasy for every one. Now coming to the point of thefts, i have noticed many cases reporting their mobile loss .. most of the cases are in City Bus or Bus Stops, Taxis and while on bike. i heard a very strange incident from one of my friends. In India now a days talking while driving is an offence ... My friend parked his bike road side and was talking to some one on the mobile .. some body came from behind on the bike and just stopped for a second dragged the mobile from my friends hands and fled. have u ever come across this kind of situations?
1 response

• United States
21 Mar 07
people are stealing cell phones? WHY???????

• India
21 Mar 07
Well its like this when u have a high end techonology phone and some one would love that who may not afford to buy that .. u never know how people turn out when they are fantasized with things .. i truly have come across such situations where the culprit would give so many reasons like i liked it , i cant offord to buy it, i thought i can sell it and make some bucks .. it goes on like this .. Who knows what instrigates a thiefs mind but these things are happening in INDIA these days.