SpaceX attempts second space journey.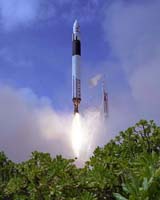 United States
March 21, 2007 4:02pm CST
The Space Exploration Technologies (SpaceX) attempted to send a home-grown space shuttle into orbital space, but during the second stage of it's trajectory through space the Falcon 1 started to spin. The company says it was likely that no fuel could reach the engine because of such. The Falcon 1 reached an altitude of approximately 200 miles into space, but failed to achieve its goal of orbiting the Earth.
1 response

•
9 Dec 10
They have now succeded (8th Dec 2010) in placing the manned capusle into orbit. It made two orbits before making a successful sea landing. THuis is a company to watch.