OK I showed you mine .... now let's see yours

United States
6 responses

• United States
21 Mar 07
Sorry Carol but I don't upload pictures of my kids to places like this - the last thing I want is one of these sick people taking those pictures and doing who knows what with them. Before everyone gets in an uproar I am not saying everyone on myLot is like that but I have seen enough here to know there are plenty of people I don't want to give access to my children. Just my thing, sorry.

•
21 Mar 07
I agree with byfaithonly. You cant be too careful on the Internet, there are just too many horror stories around nowadays. It is unfortunate that we have to think this way but that is just how it is now. Sad but true I'm afraid.

• United States
22 Mar 07
after your telling me about your son and daughter missing I understand

• United States
22 Mar 07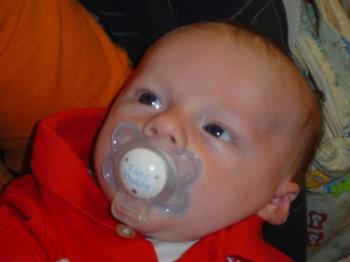 Well I don't have any kids yet but I can show you a picture of my nephew Wyatt. He is 6 weeks old. Isn't he a cutie! Red hair, he looks just like my brother Rusty!

• United States
22 Mar 07
P.S. No one can take him since he doesn't even live close to me! I haven't even met him yet!

• United States
22 Mar 07
I've enjoyed reading about your little ones and seeing their pictures, but we have an ugly situation in our family -- an abusive ex-boyfriend, father of one of the children -- who my daughter is in hiding from. So we have to take extreme measures to protect them, including no photos on the internet. Trust me, though, when I say my grandchildren are the most beautiful babies in the world. (If that doesn't provoke some people to post their pictures, I don't know what will. LOL.)

• United States
22 Mar 07
I had a feeling you would have beautiful babies. I guess I should have given this discussion a little more thought

• United States
24 Mar 07
I know there's a lot of debate about whether this is a good idea or not but... I put photos of mine in my profile for you. None are very recent but they're all I've got on my computer right now. I doubt I'll leave them up for too long though. By the way when you look, the baby was less than 12 hours old in his photo so he's much cuter now 4 months later :) And the group photo is of my s/o and his two oldest children, two of our little boys are in it too but I can't remember who's holding who. I'm sure you'll figure it out easily enough though!