Green Veges (Good Anti-oxidants)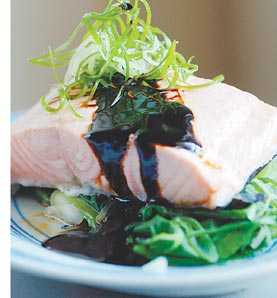 Australia
March 23, 2007 12:19am CST
Okay, we all need those green veges & salads. But sometimes it's hard to thik of interesting ways to cook them. Here is a lovely, tasty recipe. Steamed salmon and bok choy with black vinegar sauce ******************************************************* 4 heads bok choy 4 long green onions 2cm ginger Peanut oil and a dash of sesame oil for cooking 250ml fish stock 75ml black vinegar 25ml Chinese rice wine 50ml dark soy 75g caster sugar 10g cornflour 4 x 150g salmon fillets Serves 4 Wash and trim bok choy. Peel and finely slice onions and ginger. Pile into a steamer basket. Set aside. Heat a large saucepan and add the peanut and sesame oils. Add the onion and ginger peelings and stir-fry for a few minutes. Add the fish stock, vinegar, rice wine, soy and sugar and simmer for 5-10 minutes. Add the cornflour that has been mixed with a little water. Bring to the boil and stir until sauce has thickened. Strain and keep warm. Place the salmon fillets into the steamer tray with the bok choy and steam until cooked. Place on to serving plates, spoon over the black vinegar sauce and serve.
7 responses


• India
23 Mar 07
hi jenny, its great presenting a good recipe for all the mylotians here, but sorry i am vegetarian and if u could suggest some other option for salmon it would be great, thanks and good luck

• Singapore
23 Mar 07
Steamed or blanched Chinese kale with oyster sauce from the bottle is the easiest n healthiest way i know to prepare lunch/dinner hot vegetables.


• United States
23 Mar 07
Thanks for this recipe. I hate seafood and I am not a great lover of veggies. But my wife loves salmon and always looking for a new recipe. So I've copied this one for her. She thanks you in advance. Hee hee hee. HAPPY POSTINGS FROM GRANDPA BOB !!

• United States
23 Mar 07
Not sure I can go grams... America is still behind. I can celsius though!! This is good and only I ask if the sugar could be left out. Not a need for it is there? Also Salmon can be expernsive here and only available to the masses in canned form. Pieces really. Would that be usable? Thanks for sharing this since my Mother does like Salmon.