Chihuahua's/dogs

Canada
March 24, 2007 1:06am CST
I'd like to learn more about this beautiful little dog, so here's your chance to share your stories about your dogs. Do you have a long haired or short haired? What are some of the good and bad points of this breed? Are there any major health issues with them? What is the general life span of them? Any other info?
3 responses

• United States
27 Mar 07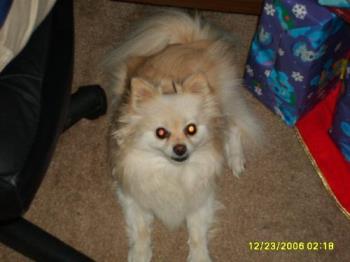 I have a white long haired Chihuahua(long hair seems to fun in the family and the pets) I have had only very little trouble with my daisy baby, mainly in the excitement area. She is a very exciteable dog. If she so much as thinks she saw a squirrel, she is ninety-to-nothing in about a second. The only real health concersn you need to worry about is their sinuses and their necks. With the way a chihuahua's head is shaped, they have VERY small sinuses and are prone to breathing problems(I think my daisy has asthma). Where their necks are concerned chihuahua's trachea is very close to the surface of their skin. Using a standard leash and collar is pretty much out of the question. The way chihuahuas get excited when walking they could easily injure or even kill themselves if they are walking with leash and collar. Although if you buy your chihuahua a harness you can still walk them with no problem, just be sure to get one that is small enough. One other thing, and this is something I had to get used to. With my chihuahua most people think she is a pomeranian.and she does look it but she is taller and has a larger shout.What do you think? Does she look like a pom to you?

• Canada
27 Mar 07
Thanks for your comment lj. Daisy is so adorable. She does look similar to a pomeranian in her looks, but then I've heard some people have problems telling the difference between the Chihuahua and Papillions especially with the long hair. Think it sometimes depends on the dogs specific looks, shape of the ears, and nose etc. Thanks for the info about chihuahua's. Good to know a few things about them. I don't think I would be getting one for a number of years. I understand it's better not to bring them up with larger dogs unless they've grown up together, and at the moment I would be afraid my playful, rather oversized sheltie might hurt one just because of her strength. She is generally pretty gentle with our whippet and the cat, but I know how powerful her legs and feet are. Enjoy your little Daisy baby. How old is she?

• United States
3 Apr 07
Daisy will turn five this year, which means this will be the last year we can safely breed her. Now we don't breed for money we just want one of her puppies. We have tried before and got no results. If we ever do have any puppies I will be sure to post them here


• Canada
27 Mar 07
Oh wow, hoghoney. Hard to imagine no one going out looking for a little dog like that. Glad to hear you've taken her in and she won't be wondering wild anymore. Bet she'll be happy just to be with someone and get some loving.

• Australia
24 Mar 07
I used to have a little male, long haired, named 'Pip'! I never had any problems with him - he was friendly, sweet, good with strangers, good with other pets (cats & dogs) - the only downside i saw with him was when he got over excited, he used to pee sometimes! They have a life span like most dogs - around the 12 years i think. They can be a little snappy if you get them from the wrong people - we got ours from a family who never paid him any attentions, never fed him & let him roam the streets - he was just a baby. He was a little snappy where food was concerned but i think that was only because he thought he'd have to fight for it (which he didn't), after a while he calmed down. If you get one from a breeder, play with the parents, see if they're friendly, quiet or whatever you're hoping for! They are very affectionate too, definitely lap-dogs & they make great companions - especially for the older generations! I hope that helps some!

• Canada
25 Mar 07
Thanks for the info Gemmygirl. Good to know they have a fairly good lifespan. Many larger breed dogs are lucky to live for 7-8 years. Most dogs will settle down if treated with love & respect and not allowing the dog to take over things. When we got our most recent Sheltie, she was nervous of people, and wouldn't come to anyone. Now she was 8 months old when we got her from the breeder and attached to her, but just didn't seem to be used to loud noises, or any other people. Although it took several weeks, with a lot of lot and attention, she did come to love everyone here.