Drinking and Driving

Canada
March 24, 2007 10:06pm CST
They say they have made stiffer penalties for drinks while impaired but in my area it does not seem to deter people from getting behind the wheel bombed out of their minds.. If is scarey really dont even feel safe to go out for a walk. I know a friend of mine once decided to do the safe thing and walk home from a dance because he had been drinking but the other buddy leaving the dance didnt he drove home and hit my friend and he girlfriend and another friend of his. His friend was killed and his girlfriend was hurt really bad and so was he. Sad eh. What do you think is there ever gonna be stiff enough laws to deter these awful things from happening?
2 responses

• Canada
25 Mar 07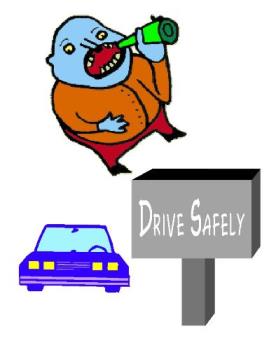 I live in Canada and I know our laws are very stiff on drunk drivers. In the past ten years or so the amount of them have gone down considerably due to the laws there are still a few idiots out there and I am sure there always will be. No law will ever keep them off the street completely.

• Australia
25 Mar 07
Yes well you are right this applies in my country as well so not matter the penalty for drink driving they still do it and even when their licences are taken away they still get behind the wheel, it is very dangerous and something more should be done about this. It is very sad I hope that one day that things will change with our laws.