This is why you should easedrop in the beginning or not at all.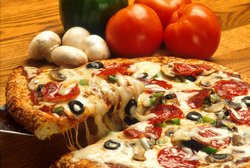 United States
March 24, 2007 11:47pm CST
My grandfather caught the tail-end of my conversation with my mother and shook his head at me muttering about being rude to my mom. This is why there is that saying, if you're going to easdrop then easedrop in the beginning or not at all. My mom was going to be working late this evening, until about six o'clock or so, and had earlier today stated she'd be bringing home dinner. Well seven o'clock rolled around and passed and she still wasn't home, so growing a bit concerned I called. I couldn't get ahold of her on her cell so I tried her work number. Lo and behold she's still there and claims she's going to be just a little bit later but will be home by 8 or 9pm at the latest. Well she just called a few minutes ago, 10:30pm, to say that she was finishing up and was on her way and did I think our normal pizza place would be open? Now I had waited because she said she was bringing home dinner, and who likes to bring home a meal to find out everyone has already eaten? I munched a few crackers here and there but that was it. My stomache is now in knots after waiting so long and I sincerely doubt I could eat anything now. To top it off she's on the opposite side of town from the pizza place so it'll easily be a 10 to 15 minute drive to get to the pizza place, another 15 to 25 minute wait for the pizza and then the 30 minute drive home. I just told her to forget about it, I'd waited to long and couldn't eat now and if she wanted to get something for her, fine, I didn't care because I'd be in bed by the time she got home anyway. Of course she then claimed that she told me she'd be late and that I should have eaten something. Uh-huh, first she said 6pm then 9pm at the lastest, now she won't be home until midnight give or take. Big difference there. Second of all if she tells you she's picking something up and you eat and have no appetite she gets all upset over it. Talk about a no-win situation here. So was I really rude or was I just putting a stop to the broken promises?
1 response

• United States
25 Mar 07
I don't think you were being rude at all. After all, you only told her that you would probably be in bed by the time she got home, and there's nothing wrong with that. She shouldn't have kept giving promises of being home at a certain time, when she wasn't really sure what time she would get out of work. I wouldn't worry about it too much hon. You didn't say anything wrong.